by Jacob Fall
The L.C. Bates Museum, Maine's Natural History Museum, boasts, among other things, a collection of specimens of animals you likely won't find in your backyard: a lammergeier, a passenger pigeon and a giant clam. And, through October 8, it will host a few others that are neither historical nor natural.
Portland artist Toni Jo Coppa has created a menagerie of unnatural personal history. Working with materials that include altered taxidermy forms, plastic foams, papier-mâché, clay, plaster, artificial eyes and teeth, and found objects, these beasts have infiltrated this eccentric old museum. As one descends into the Mammal Room, a dark tapir-like animal appears on top of one of the display cabinets surrounded by a few sprigs of vegetation.  A bit odd, but not as peculiar as the Rainbow-Backed Sloth that reclines on the next cabinet, accompanied by a vaguely humanoid thing that reminded me of Golem. "Interlopers" indeed.
Recalling both the chimeras of mythology and that thing that lived under your bed when you were five, some of these animals have human faces, others only a single large eye. They have been placed among the items regularly on view in the museum, perched atop cabinets or in vitrines at floor level, located slightly above or below adult eye level. Discovering them involves searching and surprise, adding to the uncanny nature of the objects themselves.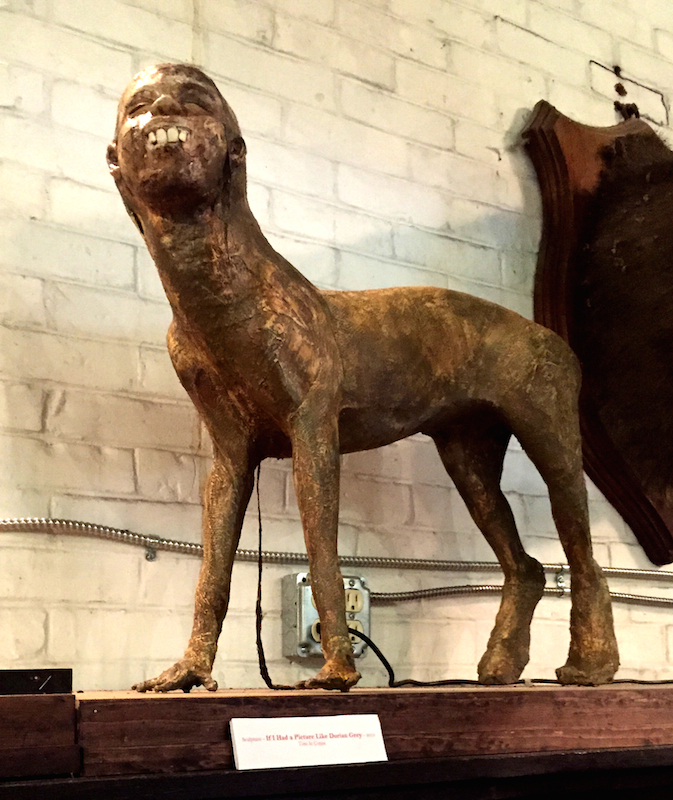 With titles like If I Had A Picture Like Dorian Gray, Species Unknown: Escapees from the Island of Dr. Moreau, and Enjoy More Fully The Aerial Gambolling, they evoke a range of cultural associations, from whimsy to horror, that both disturb and fascinate. One looks, looks away, looks back. They are hybrids or mutants and derive from their maker's ruminations on cloning and extinction: confronting and exorcising those thoughts by giving them physical form. Products of a fertile, perhaps fervid, imagination, they have been brought to life with impressive fabrication skills. If she can think of it, Ms. Coppa can make it. She has also produced a well-executed activity booklet for young visitors to the museum.
That some of the L.C. Bates specimens seem to be a bit worse for wear or were inexpertly mounted enhances the viewers' slight confusion as to whether Ms. Coppa's creatures belong here or not. This effect is strongest in those pieces like the Yellow Drumstick Antelope which are displayed with plant-based sculptures by Kathleen Daniels. A final touch of strangeness comes when your eye catches a sequined deer head by Mark Swanson: an interloper among The Interlopers.
Toni Jo Coppa's fantastic creatures are by turns amusing and unsettling, and thought-provoking in either mode. The L.C. Bates Museum is a unique experience among Maine's many museums and there may be no better place for this body of work to be displayed.
---
Toni Jo Coppa's The Interlopers continues through October 8, 2015.
L.C. Bates Museum at the Good Will-Hinckley Campus
US Route 201, Hinckley, Maine | 207-238-4250
Open 10am–4:30pm Wednesday–Saturday, 1–4:30pm Sunday, and by appointment. Adults $3, children $1.