by Megan Grumbling
We start the journey at one red point — almost an activation button — on a screen-printed field of dark dots over yellow and loose scrawls of color. From this red point extends a rosy acute angle, like a thrown light or an opened portal. And in a text to the left of the image of print 01, a poem begins, "I shall not attenuate the nature of circularity…. / I shall venerate / the center that draws us in and spews us out." This red point and this veneration begin the twenty-print suite of Sometimes times: Prints and poems, a collaboration between printmaker Terry Winters and poet Mark Melnicove, on exhibit through June 3 at Able Baker Contemporary. "I shall linger amorously over my hero, the point," Melnicove pledges, in a show that meditates on the particles, waves, and gravities that comprise, thwart, and move us. Sometimes times will close its run with a June 2 reading by Melnicove.
Winters and Melnicove, who have known each other for years, created the sequence of Sometimes times through an interactive process: once the project was initiated by Colby College Museum of Art, which holds Winters' complete print works, Winters sent Melnicove a series of drawings. Melnicove perused, wrote, and sent to Winters the poems his work inspired; Winters then altered some drawings in response. To print, Winters drew each plate individually with black litho crayon, and the images are printed with braille ink — an especially thick, viscous ink that lends the prints tactility and depth. It's the proofs of Sometimes times that are on exhibit at Able Baker; we follow the arc of the twenty prints through both floors of the gallery, gazing down into them in long vitrine cases.
As we do, we encounter particles and song, voids and worship, light-years and birthrights, oil and honey, deities and unpredictable orbits, alongside Winters' dark points, waves, and geometries drawn thick and loose over Pop-bright hues. We consider infinity and flux against the human urge to measure and hold fast. "You cannot capture waves," Melnicove observes in print 02: "they need to move to be." Next to the verse, Winters bends a landscape of topographical maps, fingertip whorls, or musical staffs. Here, in "a room empty of sonatas," Melnicove writes, "I sing about how nothing — not time, not direction, not force — ever goes missing." The roiling motion of the image recalls the impossibility of permanence, exactness, or pinning down — limits to which Melnicove submits with elation and abandon: "I break the hopeless compass over my knee," he exalts, "in the name of art."
Over time, the experience itself of viewing Sometimes times becomes interestingly active and dynamic as we look between text and image and back, identify what jives with or complicates our own associations, and, in the process, deepen a conversation. In a sense, as we look, we both replicate and continue the interactive engagement begun between the artists. And the numbered sequence pulls us along with the dual bounds and expansiveness of a Buddhist walking maze. The show's meditativeness and its leaps feel of a piece with its physics — attraction and repulsion, the vibrations of harmony and dissonance.
Along the way, we find strokes of humor, as in 07 Upward, downward, in space time: "Oh yeah, sing the spooky particles, giggling / waves of them." Alongside Winters' loosely strung chaos of dark rope, these giddy particles mock our insistence about the solidity of solid-seeming things. We sometimes swerve from abstraction to something almost topical, as in 06 Compared to water: here, the viscosity of Winters' braille ink is especially visceral, as its thick black engulfs something that was once round and blue, the only remains of which are thin, fractured strips and matchsticks of blue.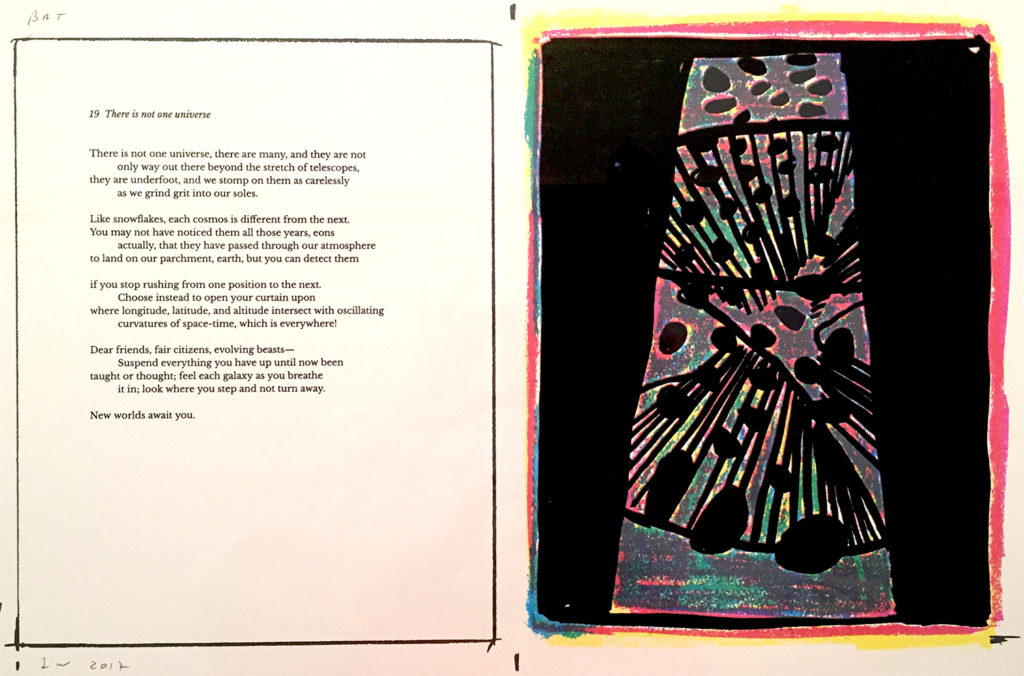 Such frequent leaps also veer us, as in print 14, between the cosmic ("Nothing, except for nothingness, ever happens twice") and the personal ("I have a lot of sentences inside me I will never utter."). And we consider nearly gnostic multitudes within multitudes: in 17 In every line, amid Winters' chaos of curves like graphs of EKG readings or gamma rays, we can discern something — elongated, bent against the gray — like the coils of human forms. "In every line — the sun," writes Melnicove. "Within rivers — muses."
As we navigate space-time and a bee in a sunflower, negotiating our own tiny, warm points in the wavy vastness and circularities, the arc of Sometimes times approaches synthesis, sufficiency, and song in the face of infinities. As Winters' image, in print 15, opens like the bell of a horn, kinetic with waves and rings, wide and full of sound, Melnicove offers a verse that seems at once relent, eulogy, and praise: "One clam, one seashore, some waves — that might be enough," he writes. "I will see what I can see, sing what I can sing."
---
Terry Winters' and Mark Melnicove's Sometimes times is on view through June 3, 2017 at Able Baker Contemporary, in Portland. The exhibit will close with a reading by Melnicove on June 2 at 7 p.m.
Able Baker Contemporary
29 Forest Avenue, Portland, Maine | ablebakercontemporary@gmail.com
Open 1:00-5:30 Thursday, Friday, and Saturday or by appointment. Admission is free.
Editor's Note: an earlier version of this review misidentified print 17: In every line as 19 There is not one universe.