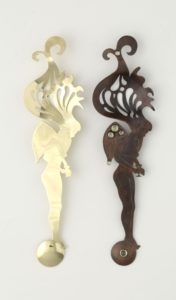 RETROSPECTIVE, Portland's Metals Collective Through the Years
RETROSPECTIVE, Portland's Metals Collective Through the Years
The Metals Collective is proud to present a group RETROSPECTIVE show, at the Maine College of Art's  'Artists at Work' Gallery this July 7- Aug 20th.
The Metals Collective was founded by Maine College of Art Alumni in 2010, and now after 7 years  includes more than 25 participating members who to date have put on more than a dozen group shows at local venues, with themes ranging from poison rings to absinthe spoons, pickle forks to tussie mussies.  This RETROSPECTIVE will give the public the unique opportunity to revisit these group shows and to see the evolutionary work of 7 individual members, including many pieces available for purchase.  Come see what our passionate community of metalsmiths has been up to!
WHO:
The Metals Collective
FEATURED ARTISTS:
Ann Thompson, Cat Bates, Emily Percival, Maria Wolff, Mary Forst, & Shelby Goldsmith
WHEN:
Opening Party July 7th, 5pm-8pm.  On display through August 20th
Regular Hours:
​The Gallery Hours will be as follows:
​​Wednesdays & Thursdays   11-6pm
​​Fridays and Saturdays   11-7pm
​​Sundays   12-5pm
WHERE:  
Artists at Work Gallery, Maine College of Art, 522 Congress St., Portland ME
Image:   
Maria Wolff's 'Green Fairies', from 'Absinthe Makes the Heart Grow Fonder', 2010 & 2014, The Bar of Chocolate.   (Left) Brass, (Right)Copper, Silver and Peridot.
---
What
Exhibition
When
July 7, 2017 5:00pm through August 20, 2017 5:00pm
Where
Maine College of Art, Artists at Work
522 Congress St., Portland, Maine 04101
http://www.meca.edu | 207-775-3052
Cost
Free
---