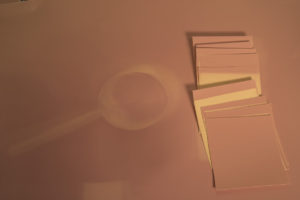 MEGGAN GOULD: Bureau of Visual Instruction
Exhibition: June 29 – September 30, 2017
Opening Reception:  Thursday, June 29, 6–8pm
The Bureau of Visual Instruction is an ongoing body of work, an open-ended dissection of the fluidity of photographic vision. Visualizing layers of information, and our habits of vision within these layers, is a continual undercurrent within my work. After years of teaching photography, I began to examine my own language of photographic instruction, and the remnants of the image making process. Fingers on lenses, opened boxes of unexposed film, water drops on film and photosensitive paper – where, within the pushing of photographic rules and received wisdom, could surprising moments of aesthetic pleasure and serendipity occur? Blatant images replace latent images on unprocessed film, stained paper towels exhibit chromogenic dyes that will never form a photograph, "empty" ink cartridges yield pigments that will never pass through a printer….
Photographic surfaces and the detritus of photographic processes enthrall me. I continually return in my work to the power of the surface – inks, emulsion, plastic viewfinders… the stuff of which the photograph itself is, or has historically been, built up, the quiet elements of vision. The surface of film and the surfaces of digital tablets are remarkably similar, yet we are invited to engage with one of the surfaces, and repeatedly reminded not to touch the other. In recent work, I examine my own presence on both. On sheet film, I relentlessly rub away the emulsion, burnishing it, rendering it useless as photosensitive material, transcending its most basic function. Layers of pigment ink, drained from digital printers, are built up, rubbed away, and built up again; inks mingle with photosensitive emulsions in an unlikely marriage of silver gelatin and inkjet pigments, an abstraction of chemical history.
In the series of iPad surfaces, I similarly look to exploit the ability of the photograph to stop our vision at an ostensibly superficial level of mutable, mundane surfaces. Much as we each might erase chalk from a chalkboard with a specific gesture, our fingers navigate our ostensibly identical screen surfaces in unique ways, and the grease and dirt on our fingers give away our patterns, our routines – and, of course, our fingerprint identity.
Image: Meggan Gould, A Brief History of Exposure 2, 2014, pigment print, 16 x 24 in.
---
What
Art Opening, Exhibition
When
June 29, 2017 through September 30, 2017
Where
Maine Museum of Photographic Arts
314 Forest Ave. (5th Floor of the University of Southern Maine Glickman Family Library), Portland, Maine 04101
http://www.mainemuseumofphotographicarts.org/ | 207-331-6622
Open Hours: Monday–Thursday: 7:45am-11pm, Friday: 7:45am-8pm, Saturday: 10am-8pm, Sunday: 10am-11pm
Cost
Free
---