by Jeffrey Ackerman
The blindfolded goddess Fortuna keeps her tin-laden wheel ever in motion, ensuring that luck, good or bad, is never a permanent state. Persistence is our only option. The New Zembla Dispatch, where I worked, was acquired by a publishing house specializing in appropriated manuscripts, found essays, cut and paste journalism, and the exquisite corpse poem. This is how I found myself assigned to The Four Seasons Book Society, fabled publishers of de Chirico's surrealist novel Hebdomeros1 (the poet John Ashbury, in his review of the novel, cast some doubts as to the existence of that publisher, but so far all of their meager checks have cleared.
My first assignment was to contribute to an anthology on regional art. I was sent to New Orleans, home to a vibrant culture of art and music with a distinct local flavor, to begin my project. My intended subject was the painter Elizabeth Fox, whose work betrays that local influence in rather subtle ways. I arrived only to discover that she had moved to Maine in 2008, another area famous for a regional flavor. I was curious to see how that move affected her work, and, while still in New Orleans, I searched for a recent review. In a French language bookstore, I discovered a copy of a Maine Acadian French art magazine, Mal de Mer, which contained a review of Fox's latest show by the magazines editor and art critic, Narciso Philostratus, a familiar name to me, in fact, some of my finest work is his. My first task was a translation of the review, despite the fact that I speak no French. Using Google translator I transformed the document into Hungarian, which I learned as a child from my grandparents. I was then able to render Narciso's sweet French into my own awkward English, and it is that pale version of the original I now present to you.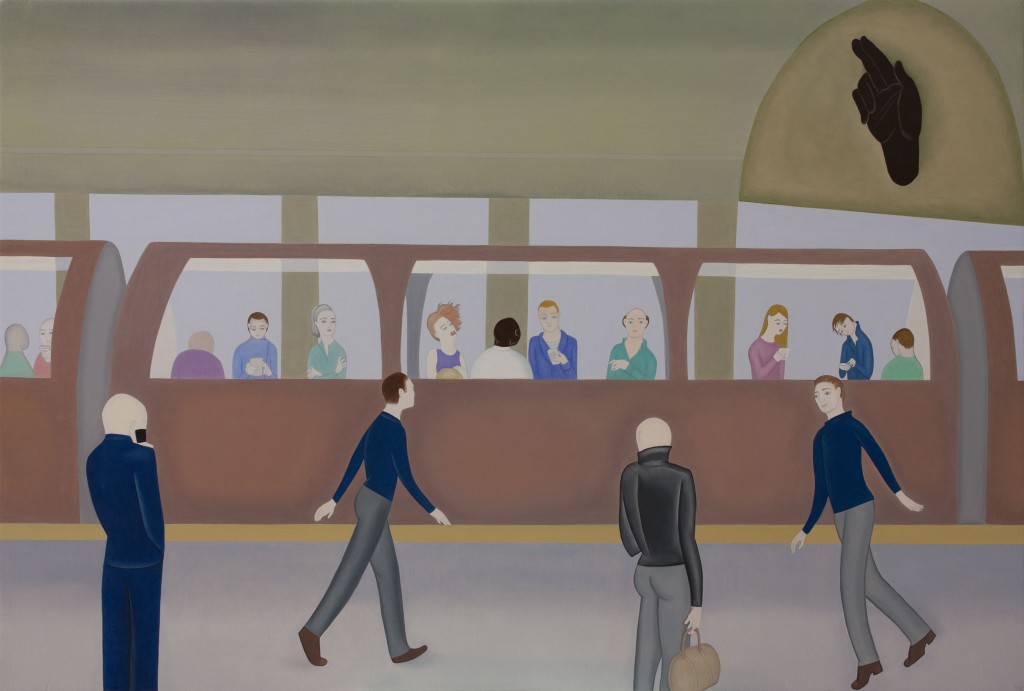 Le Mal de Mer
"Down to the Ground": Paintings of Elizabeth Fox
by Narciso Philostratus
Translated into English by Jeffrey Ackerman
There is a diaspora underway in the national art culture. Artists, for a variety of reasons, are migrating to regions where a kinder quality of life may be found. They seek an economic equation that affords artists their most coveted luxury, time in the studio. These migrations are creating some interesting cross-pollination of ideas and Maine is a beneficiary of this trend. The paintings of Elizabeth Fox import to Maine some welcome characteristics from her former home in New Orleans. They have also absorbed and reflect back imagery acquired in her new home in Standish, Maine. She paints the mundane world around her as if she imagined it, dreamed it.
When questioned about artistic influences, Fox mentioned two New Orleans artists she knows personally, Douglas Bourgeois and the late Chuck Crosby. These are artists whose work she has experienced intimately, both in their studios and in galleries. This is refreshing in an art culture that is being flattened by the dissemination of artworks via art magazines and Instagram, and by art schools everywhere teaching from similar lesson plans. Fox's paintings, like the works of her mentors, exhibits a level of artistry that is acquired by first-hand experience of painting and as a result, rewards the viewer who can see these carefully crafted works in person.
Another quality Fox shares with her mentors is a sense that New Orleans artists have created an alternative history to the one dominated by the post-war New York School. Maine, being a traditional satellite of New York art culture, is strongly influenced by what goes on in New York and by what Maine artists can show there. New Orleans art is affected by a diverse ethnic culture, a strange blend of religious traditions, and a rich musical history. Visual artists, a bit detached from mainstream trends, consumed whatever art reproductions might drop into their hands, curated by fate rather than academic fashion. Growing up in rural St. Amant, Louisiana, Douglas Bourgeois claims the influence of dime store religious reproductions of Renaissance and Byzantine painting, common in religious households, and "holy cards" (like baseball cards; "trade you a St. Anthony for St. Catherine"). He was also exposed to modern masters, works by Jackson Pollock, Joseph Cornell, Van Gogh and Picasso, all via Life Magazine, and went on to get a BFA from Louisiana State University.
Such eclectic art education is more difficult today and places like New Orleans are now culturally connected to the mainstream and sometimes in perverse ways. This relationship is explored in the recently released documentary film, Missing People. It tells the story of how and why a New York art dealer became obsessed with New Orleans self-taught artist, Roy Ferdinand, who chronicled street life in some of the city's toughest neighborhoods. Ferdinand self-consciously played up his role as outsider artist, calling himself the "original gangster". Does the market pressure such artists to remain, or at least appear, "unsophisticated" about art and art history, while they become unapologetically sophisticated about image and marketing?
There is nothing inauthentic about sophistication. Fox spent 18 years in New Orleans and seems to have absorbed an eclectic vocabulary from local and pop sources, as well as historical sources from Henri Rousseau to Renaissance masters. Her palette, dominated by pinks and grays, is reminiscent of 15th century Italian art, especially the Sienese school. Her figures and distorted perspectives have much in common with Siena's greatest master, Sassetta. Another notable feature in Fox's work comes from Botticelli; his manner of rendering transparency, mostly sheer transparent garments. Fox has adopted this technique to paint transparent rain jackets, see-through skirts, a truck windshield, cigarette smoke, and most amusingly, a Plexiglas shield protecting a salad bar.
This sort of trick is key to the works underlying humor. Common, often ugly, aspects of contemporary life are rendered in a style that lends them a strange beauty. Like the Italian primitives, strong color is reserved for a highlight, but instead of the saint's cloak, it might be a red plastic cup or a traffic light. There is a minimal degree of modeling, enough to highlight the erotic curves of her women and men, especially their shapely butts. Details of the mundane, though severely stylized, are well observed, such as in New Frontier; a weedy front yard contains a sofa with a cinder block holding up one corner. The figure in that scene wears a fox hat and in another painting, a perhaps sleeping or dead (roadkill) fox with Xs for eyes appear—clever versions of the artist's signature.
Some details locate the scene geographically; a black barbershop with a Muddy Waters poster, or a logging truck in Out the Woods, the one explicit Maine scene. It seems a bit gratuitous—"hey Maine, this song is for you"—but it is done in the right spirit, artist as showman. The logging truck looks as if it were described to her over the phone and she had never seen one, the log loader resembles a cartoon bear paw, the windshield is straight out of The Jetsons, and the steering wheel floats like a halo in the driver's single hand.
These are not just scenes of modern life; they are dramas—existential, metaphysical and spiritual, and offer pleasures for the mind as well as the eyes. Fox was raised Catholic and is not religious in the traditional sense. Belief is a complex issue, too often simplified. Art, by telling stories and presenting images embraces the complexity without the need to explain. The best explanation of belief was delivered in a quip by physicist Neils Bohr in response to a question about a horseshoe he had hanging in his home. A friend asked if he really believed in such a foolish superstition and Bohr replied, "of course not, but you know I have been told that it works even when you don't believe in it."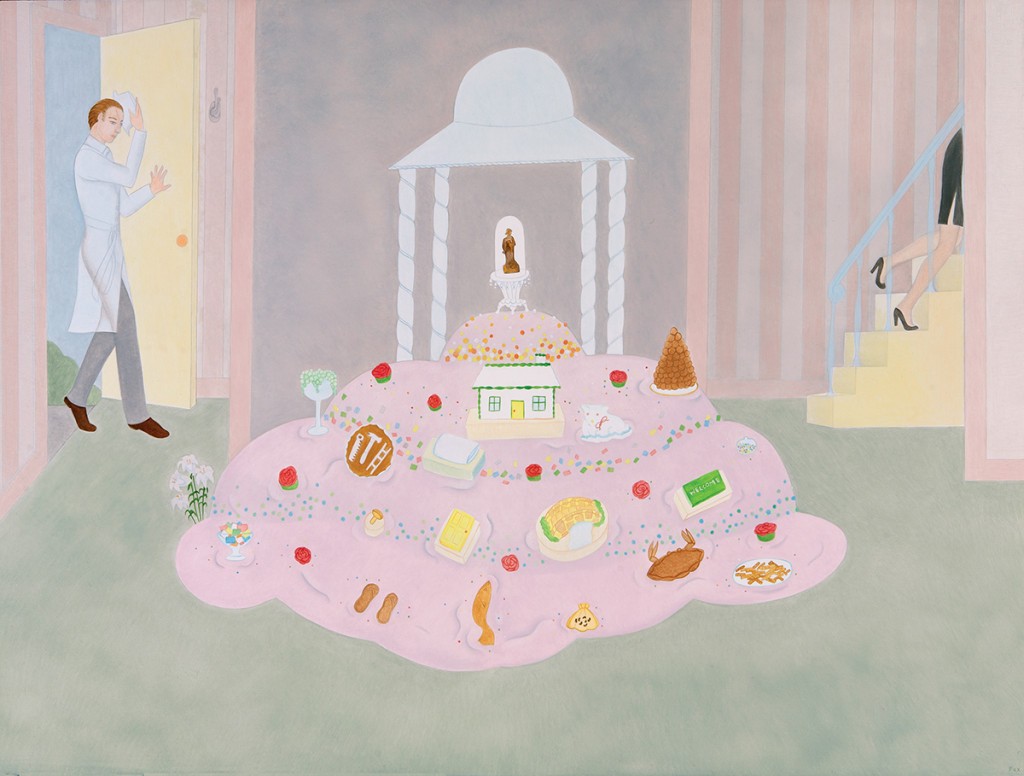 In Maine art, the spiritual often tends toward a cult of nature, evident in abstract as well as representational work. This brand of religion lands on the metaphysical map between Emersonian transcendentalism and a kind of Protestant Buddhism—one without the deities and demons. Fox is not allergic to explicit religious imagery, though her strain includes the Freudian cult of the naughty boy-god, Eros.
One painting, St. Joseph Day, No Place Like Home, depicts a shrine typical of New Orleans St. Joseph day celebrations, as a centerpiece for a mysterious domestic drama. There is a local ritual of burying a St. Joseph statue when you are trying to sell your house—a bit of Catholic voodoo. Unable to sell her New Orleans house post-Katrina, Fox buried a St. Joseph statue, without realizing it, on St. Joseph's day. The house soon sold, and a year later, again on St. Joseph day, she closed on her current home, also unaware of the date. Dirt from the buried statue is mixed with the paint used to depict the statue in the painting. The significance of this ritual is not about believing in magic, which Fox may not, but to act as though magic exists, as a simple fact of nature.
Another painting, Underground, depicts a giant black hand in a gesture of benediction, floating above a group of commuters in a subway station. I thought this was an apparition, the black hand representing some Afro-Catholic blend special to New Orleans, but it is an actual scene in a Boston red line station, and the hand is an actual sculpture, not black but bronze. In contrast to the 20th century cliché about the alienating quality of the modern city, these commuters seem just plain distracted—one even floats, many are absorbed under a smartphone induced magic spell. All are unaware that they are being blessed. The train is centered in the composition, like a domed church in a Renaissance painting, with no indication of direction. The platform is the piazza, or a stage set with the train as architectural backdrop. The image of deity is subtle and universal, a hand—to guide us, to bless us—whether we know it or not, whether we care or not, whether we like it or not.
---
Down To The Ground, paintings by Elizabeth Fox ran from October 2, 2015 through October 31, 2015.
Dowling Walsh Gallery
365 Main Street, Rockland, ME | 207.596.0084
Open Tuesday through Saturday from 10am to 5pm, and Sunday and Monday by appointment. Free.
 https://hebdomeros7.wordpress.com/translation-and-publication-history-of-hebdomeros/ ↩