by Clare Tyrrell-Morin
There is a short film, called Here Nor There, that perfectly captures the creative climate that is currently taking hold of Biddeford, Maine. It opens with a flat ocean, dappled sunlight, then switches to a woman in a long white dress walking past the towering brick walls of a mill. She is followed by other elegant beings who move in choreographed forms through a hypnotically beautiful film, juxtaposing their angular movements against the shabby storefronts of Main Street, the waterfront of Biddeford Pool, standing in abandoned rooms where yellowed wallpaper peels.
The film is made by Subcircle, an acclaimed Philadelphia-based company that merges dance with sound, set design, lighting and film. In 2014, Subcircle founders Niki and Jorge Cousineau and co-director Scott McPheeters purchased a barn east of Biddeford, which they will use for artist residencies. Their arrival in Biddeford is the latest in a series of creative pioneers quietly taking up residence in the small city south of Portland.
"My parents and Scott's parents are both living here," explains Niki Cousineau of their move east. "Scott grew up in Biddeford Pool and my mom is the minister of their church in Biddeford Pool (Union Church). We're loving the property itself," she adds. "The rejuvenated community of Biddeford, all the potential there, the proximity to Portland, the ocean, Boston—not to mention our families—there were just too many plusses to refuse."
According to Stephen Burt, Chair of the Creative and Fine Arts program at the University of New England, "Biddeford is on the cusp of a Renaissance." Burt sits on the board of the Biddeford non-profit art space Engine and has been working as a professor at UNE since 2004. "It has already begun," he says of the growth. "Businesses are moving in, artists are actively working, and the mills are being redeveloped… Heart of Biddeford, the City Theater, Engine and local businesses have initiated the beginnings of a huge cultural shift."
Intrigued, I decide to travel to Biddeford one frigid Tuesday morning in January, to wander the streets, knock on studio doors and generally gauge the energy of the city.
ELEMENTS, 265 Main Street
The day begins with a 9am chai latte at Elements. It takes a few moments to figure out that Elements is in fact Elements. I'm staring at a sign that reads: Bk, Co, Be, until it finally dawns on me that this a cunning play on the periodic table (Books, Coffee, Beer). The clever signage is telling of co-founder Michael Macomber, a Saco-native and part-time philosophy professor. He set up the shop in 2013, allegedly after a Facebook post went viral saying: "Downtown Biddeford seeks romantic relationship with coffee shop." He won start-up money from the Heart of Biddeford's Main Street Challenge program and designed the space with the help of visionary architect Caleb Johnson, who owns the building and has an office upstairs.
One step into its sun-filled warmth and it's clear why Elements has become the key gathering space of Biddeford's rising creative scene. With floor-to-ceiling windows, coffees, craft beers and endless bookshelves full of literary gems, Elements is a fine specimen of a coffee shop. Latte in hand, I walk around the bar and spot the first interview of the day: Tina Guay and her fellow AUTUS collective member Hunter Wahl.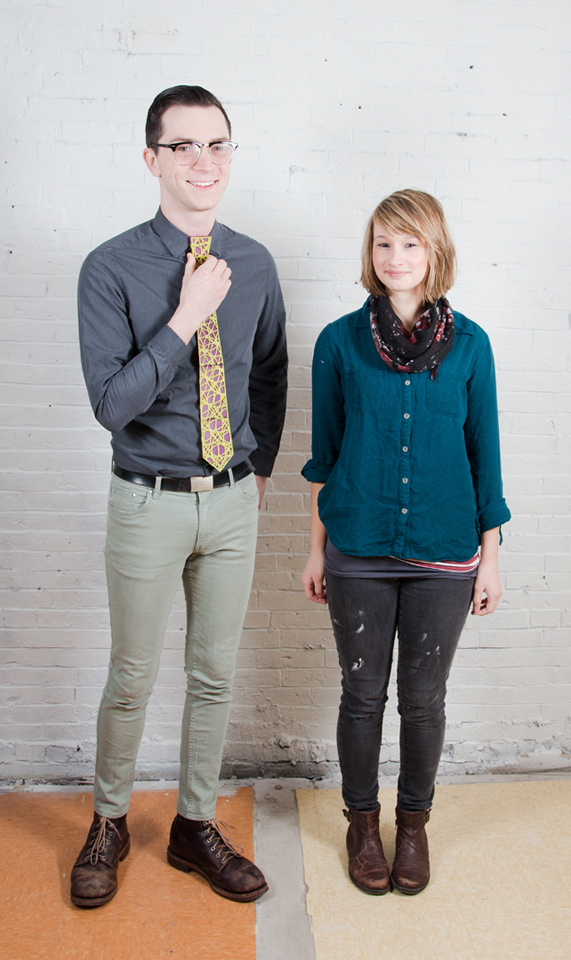 Autus means "increase" or "growth" in Latin. It's a fitting name for a collective of artists like Tina Guay and Hunter Wahl. In their mid-20s, they both have the joyful auras of people who have landed at the right place at the right time. Guay was born in Biddeford—her grandparents worked in the mills. She studied at the New Hampshire Institute of Art and came home in 2012. Now in early 2016, Guay has already set up an artist studio in the mills and a frame store, and she's on mission to build a community darkroom in Engine's basement.
"Being back here is just awesome," she says. "I never thought there would be an arts scene here. It's great to see downtown flourishing." She cofounded the AUTUS collective in 2014 with three established artists: Keiren Valentine, Sarah Baldwin, and Julie K. Gray (Gray is responsible for the mural outside of Elements). Since then the collective has morphed and reformed. "It's restructuring, we want to be organic as we grow," explains Wahl—the newest member and himself an import from Denver. Wahl is a sculpture graduate who managed to get a job as technician working on 3D printers at Maine FabLab, also housed at Engine. As we finish our teas, they offer to take me with them to Engine to check out their current curated show, The PINE TREE STATEment.
ENGINE, 128 Main Street
One of the key people in Biddeford's story is Tammy Ackerman.  If you've heard anything about the city's creative scene, chances are it's because of Engine. This non-profit organization was co-founded by Ackerman, a trained artist and graphic designer from South Dakota who first discovered Biddeford in 2005 during a round-the-country roadtrip.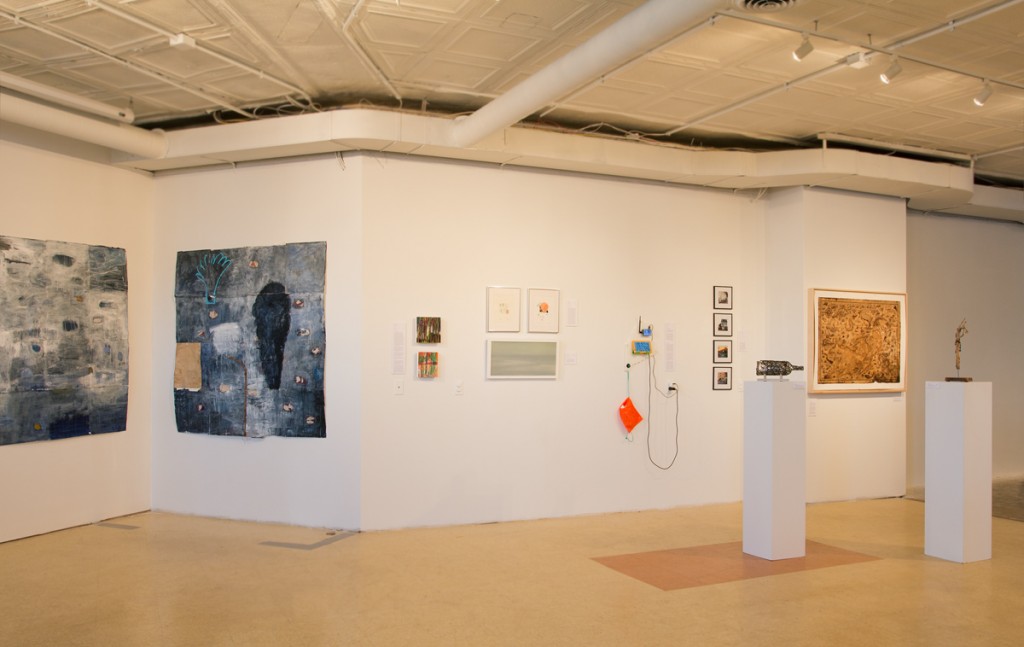 "Biddeford seemed full of promise and opportunity," she says. "In terms of its location, its fantastic historic architecture, and I was intrigued by the energy of a handful of people." She moved here, first setting up a graphic design firm in the North Dam Mill and in 2009 co-founding Engine with Joshua Bodwell, who also spends his time as Executive Director of Maine Writers and Publishers Alliance.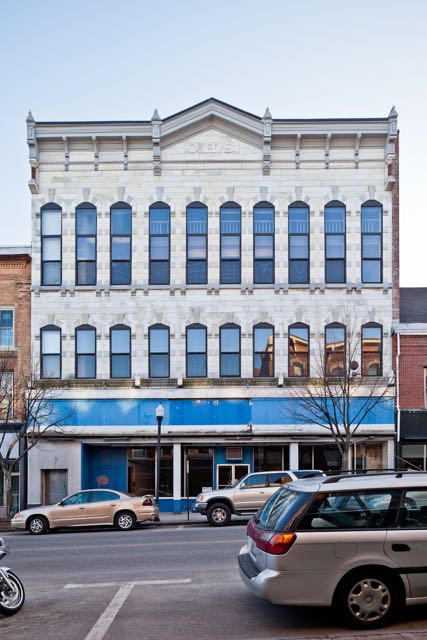 In 2011, Engine was given the Marble Block—a historic building directly opposite their new space. The former Reny's department store was donated by Bob and Mary Kate Reny. This January, the Marble Block project won a Maine Community Foundation grant to start transforming it into a center for art, design and innovation. Ackerman says they're following the lead of AS220 in Providence, Rhode Island: "Owning real estate is a way to create sustainability. Our plans are for a mixed development, part revenue-generating commercial and part mission-driven space such as the theater on the third floor, room for Engine, and studios. We are looking at various development scenarios to help drive the project. It will take millions to restore the Marble Block fully, but we are tenacious."
The roots of Biddeford's resurgence can be traced to the rise of one cultural institution in particular: the City Theater. The 500-seater opera house on Main Street was first built in the 1880s and celebrates its 120th year with a gala weekend on January 29–30, 2016. Nearby are the offices of Heart of Biddeford where I find Executive Director Delilah Poupore sitting at a large table. She gives me a quick recap of Biddeford's recent creative history, pointing to the revitalization of City Theater in 1996 as the vital first step. "It's an incredibly beautiful, majestic theatre," she says. "They do five shows a year plus bringing in music and dance events. That can be 200–400 people in our downtown on weekend nights."
Once the theatre was brought to life, the Downtown Development Commission was established followed by the Heart of Biddeford in 2004. She also points to the activities of local-man and developer Doug Sanford who bought the North Dam Mill and created the Pepperell Mill Campus, which pushed the city into a new level of development. "When you see those empty spaces and buildings, they have intrigue to them," says Poupore of the mills. "They say, here's open space; come and create here."
Continuing around the corner from Engine is the Pepperell Mill Campus. This is where the ThinkTank co-working hub recently opened, and where Portland Pie opened in January. It's a vast space filled with woodworking collectives, small businesses, arts and craft organizations and non-profits.
The mill houses some intriguing people, such as Roxi Suger—a dynamic fashion designer who lets me peek inside her factory space for her brand Angelrox. The huge space has several rows of sewing machines that resonate beautifully with the textile mill's original purpose. She is also the owner of Suger, a store around the corner on Main Street that sells their innovative clothing made from bamboo and organic cotton. Suger spent 18 years in New York City working for the likes of Vivienne Tam and Urban Outfitters before relocating to Biddeford with her husband, thanks to her father-in-law in Saco.
"For the creative vibe, Biddeford was a no-brainer," she says. "Coming from Brooklyn, Biddeford has that raw potential and creative spirit—but enough grit to keep it interesting." Every year Suger runs the charity event The Biddeford Ball—last year they raised enough money to light the smokestack at the mill. "At night we now have an iconic little monument, if you will, to the history of Biddeford and the industrial history of America in New England."
Other Spaces to Visit
If you go deeper into the cavernous corridors of this mill, you'll find a nice pocket of activity, a tiny café in the wall, the legendary Rabelais bookstore owned by husband-and-wife Don Lindgren and Samantha Hoyt Lindgren (email them before you visit to make sure they're there) and the Heartwood College of Art. This small school was set up by encaustic/fibre artist Berri Kramer and painter Susan Wilder 25 years ago in Arundel and then shifted to Kennebunk. They moved into Biddeford in 2013 and offer BFA and Masters courses.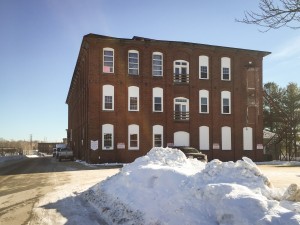 BUGBEE BROWN MILL, 22 Pearl Street
Biddeford is currently moving through a major revitalization and this is evident on the walk from the Peppermill Campus over to Bugbee Brown Mill. Here you'll pass the huge Lincoln Mill—with a sign announcing that The Lincoln Hotel and Lofts will appear here in 2017. The $50 million project was confirmed this January, promising to send another wave of change through the city. But for now at least, this is a grittier part of town. I head into a desolate parking lot and arrive at 22 Pearl Street, a freestanding building also known as Bugbee Brown Mill.
Trent Bell's photography studio can be found wedged amid band practice spaces and rooms storing aquarium equipment. He's a commercial photographer who captures gleaming facades of architecture throughout the region. He also does fine art projects such as the inspired 2013 Reflect Project where he photographed Maine State Prison inmates. It was childhood friend Caleb Johnson (owner of the Elements building) who lured Bell to Biddeford in the early 2000s with the promise of good surf.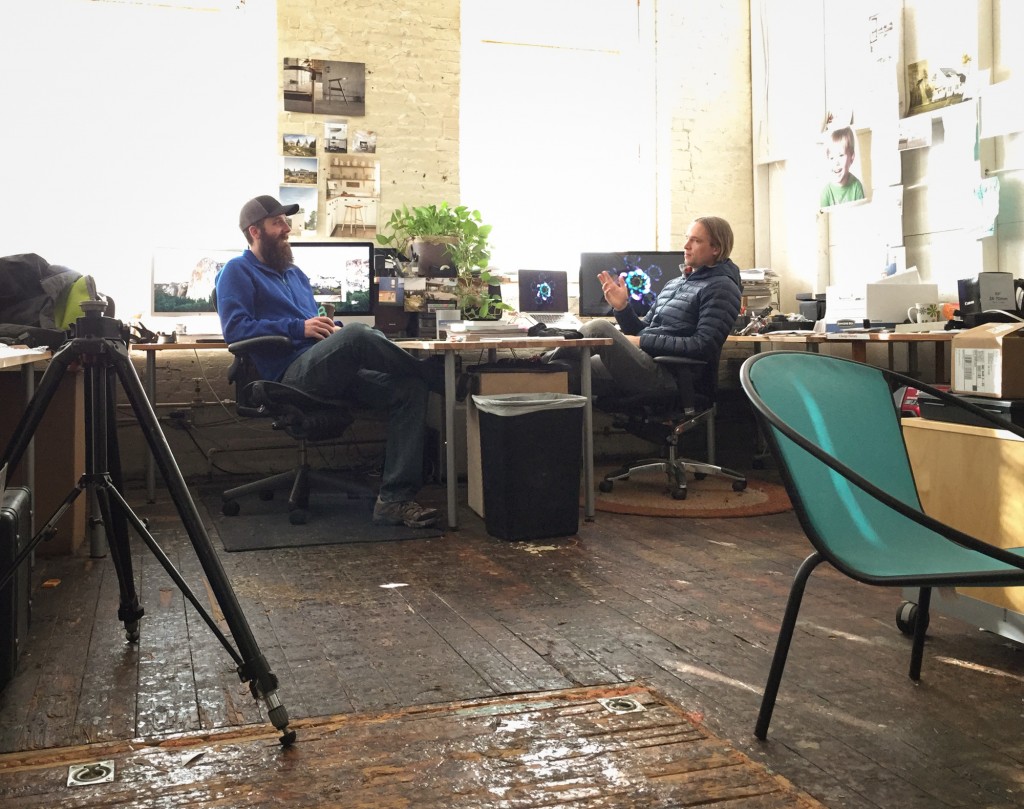 "You have the college here and it's a small town," says Bell. "It's not like Portland which borders on being a small city. This is a town that has a year-round presence, it's not a tourist town at all, but is filled with a lot of creatives. The appeal initially was that it seemed far more of a blank slate where you could do what you want." Bell points out that with all the recent development, the affordable rents are now starting to rise. "They were really easy to find," he says referring to the mill spaces. "They're now not too difficult to find, and soon they'll be few and far between."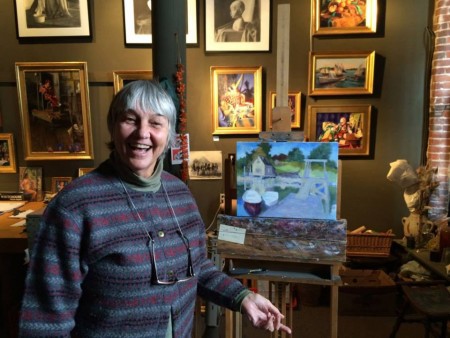 Susan Whitehouse occupies a studio above Trent Bell. She has two vast rooms, walls covered in landscapes, still lifes and portraits. She was trained in the Boston School and has been in this building for 18 years. "At one time I was the only person in the building," she remembers with a smile. "It was spooky, there were bats."
She's been watching the artists move here, their studios squeezed in amid commercial activity and says it's been a tremendous thing for the community. But she also cautions that the life of the city needs to be kept in balance. "I think it's wonderful to develop the waterfront, but what they have to do as they develop it is make sure there is enough commercial space in these buildings to attract business," she says. "The first floors in all of these buildings should be open to some kind of commercial use—so there's a vibrant downtown."
But for now at least, more and more new faces are appearing and the nascent energy in this tiny city is undeniably invigorating. Another Mainer drawn home by Biddeford's development and abundance of mill space is Ian McConnell—who set up the microbrewery Banded Horn Brewing Co. in the Pepperell Mill in 2013. His wife, Celia Blue Johnson is a writer, editor, creative director and co-founder of the literary magazine Slice, based out of Brooklyn.
"​The scene is constantly growing and it's broad," she writes via email. "I love the energy. The town is packed full of artisans. These people are passionate and innovative. I'm constantly inspired. And it's not just the talented visual artists I'm talking about. Just stroll through Hyperlite and check out their groundbreaking camping gear. Or take a look at Gabe Sutton's exquisite handcrafted furniture. Or sit down for a bite at the Palace Diner, Custom Deluxe, or Biscuits and Co. To have so many talented people packed into one town… well, it feels like Brooklyn, but without the impossibly high rent."
---
Note: this post was updated to note the gala weekend at City Theater and credit Trent Bell for his photographs above.