T
he Chart 
is an online art journal based in Maine. Working with the collective "we" of artists, writers, and cultural collaborators, The Chart is a platform that encourages nuanced conversations to make visible the artists and practices engaging in the pressing subjects of our time: most recently we've published work on the urgencies of grief, power, hegemony, racism, misogyny, feminism, climate change, late capitalism, and the technological turn. We aim to complement efforts of other publications in the state and the region by covering material that may be challenging or invisible to other outlets. By centering our work in Maine and working outward, we can cultivate a living archive of Maine's contemporary art history within a framework of national contexts. The Chart supports critical artistic dialogue with the goals of creating shared language; recognizing deep connections across borders and cultures; celebrating diversity in thinking, ideas, and lived experiences; and honoring the relevance of regionally-specific participation in matters that we grapple with together as a nation.

The Chart was founded by visual artist Jenna Crowder and entrepreneurial artist Ashleigh Burskey. While contributors write and document Maine art and artists, placing the work and history in contexts that are unique to Maine, we also investigate work from national and global communities with the intent to make visible the vast network of thoughts, themes, and ideas that artists are grappling with, regardless of geography or market.
The Chart is a member of Common Field, a visual arts organizing network connecting contemporary, experimental, noncommercial artist-run and artist centered spaces and initiatives.
The Chart's third volume (2018) is supported by The Kindling Fund, a grant administered by SPACE Gallery as part of the Andy Warhol Foundation for the Visual Arts Regional Regranting Program, as well as  The Dorothea and Leo Rabkin Foundation. Thank you for your belief in this work!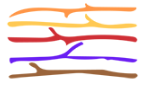 The first volume of The Chart (2015–16) was supported by generous grant funding from The Kindling Fund, a grant administered by SPACE Gallery as part of the Andy Warhol Foundation for the Visual Arts Regional Regranting Program, and the Maine Arts Commission.


Who We Are
Jenna Crowder, Founding Editor
Jenna Crowder is an artist and writer living and working in Portland, Maine. Her practice spans installation, writing, printmaking, curation, and collaborative project-based works. After receiving a BFA in Sculpture with a minor in Art History from Maine College of Art in 2007, Jenna worked as a freelance designer and creative director in Washington, DC, and subsequently embarked on visual arts projects and independent research while living in Cairo, Egypt from 2012–13. She has been published in VICE Creators Project and Dispatch Magazine; and recently co-created MTV Crits!, a series of themed music video screenings and pop culture critiques, with the journalist Nadia Prupis. Jenna can be reached at jenna@thechart.me.
Contributors
Jeffrey Ackerman is a painter and sculptor, living in Morrill, Maine. His work, as well as some of his writing, can be found on his website: http://www.jeffreyackermanstudio.com.
Frances Barker is an artist and experimental musician from southern Maine, who will graduate from the Maine College of Art in Spring of 2018 with a BFA in Painting with a minor in Music. Their work focuses on the space we take up, the greater presence of body, and our (messy) identities. They are an avid conversationalist and always available to reach at www.frncsbrkr.com.
Mariah Bergeron lives and works in Portland, Maine.
Marques Bostic is a Maine-based optometrist and visual artist with interests in color theory, site-specific installation, arts administration and running. He especially enjoys working in non-traditional settings and collaborating with artists with non-traditional backgrounds.
Ashleigh Burskey is an Entrepreneurial Artist based in Portland, Maine, and co-founder of The Chart. She also serves on the board of the Friends of Congress Square Park. Ashleigh holds a BFA in Printmaking from the Kansas City Art Institute and a Master of Arts in Teaching from Maine College of Art with K-12 Teacher Certification. ashleighburskey.com
Ian Carlsen is a freelance writer, actor, and amateur ornithologist. He has been living in Portland for more than a decade.
Jenn Corey is a writer and producer based out of Portland, Maine, and a recent graduate of the Salt Institute for Documentary Studies.
Alana Dao is a writer and maker residing in Portland, Maine, with her husband and young daughter. She received a MA in Visual and Critical Studies from the School of the Art Institute of Chicago and a BA in Spanish and Latin American Studies from Smith College. She is currently a contributing writer for the online publication Dilettante Army and the Co-Founder/Executive Director of CSArt Maine, the first community art share program in the state.
Annika Earley is an artist based in Portland, Maine. Her work can be seen on www.annikaearley.com.
Jacob Fall hails from Willimantic, Maine. He studied anthropology and art history at New York University. He has occasionally lectured at the Greenwood Cove Institute for Boreal Limnology.
Jaime Gaiti was born in 1993 on Long Island, New York, where she lived for 21 years. She attended Suffolk County Community College from 2011 to 2014 where she studied visual arts. During this time she also enrolled in numerous special effects makeup workshops in New York City where she expanded her knowledge of painting, sculpture and mold making. In 2014, Gaiti transferred to the Maine College of Art in Portland, Maine, where she lives today. She graduated with her Bachelor in Fine Art in Sculpture in 2016. Her work is inspired by the human body and its fragility and complexities. Gaiti has been involved in numerous student exhibitions, participating in her first group show in 2011 at the Sayville Art Gallery in New York. Since then she has participated in exhibitions in the Maurice N. Flecker Gallery in Selden, New York, and in the Porteous Building of the Maine College of Art in Portland. Her work is inspired by the vulnerability of the body and ideas of mortality as well the beautiful and grotesque.
Helen Greenbriar lives in Portland, Maine.
Megan Grumbling is a poet, critic, and educator in Portland. Her poetry collection Booker's Point (UNT 2016) was awarded the Vassar Miller Award, and her work has also received the Poetry Foundation's Ruth Lilly Fellowship, the Robert Frost Award, and a St. Boltoph's Emerging Artist Fellowship. She reviews theater for the Portland Phoenix and is the librettist of the spoken opera Persephone in the Late Anthropocene, which premiered at SPACE Gallery in 2016 in an interdisciplinary collaboration of Hinge/Works that interwove music, verse, movement, and installation. http://www.megangrumbling.com/
Meg Hahn received her BFA in Painting from the Maine College of Art with a minor in Art History in 2017. Her interests aim to maintain both an active studio and academic art practice.
Andy Johnson is a DC-based art historian, arts writer, curator, and currently director of Gallery 102. His academic and curatorial practice centers on queer, feminist, and black feminist theories, critical race theory, cultural studies, photography, video, performance art, and visual culture. He holds an M.A. in Art History from The George Washington University. He has presented research and spoken on panels at universities and museums including Rutgers University, University of Georgia, UC-Santa Barbara, GW, Urban Institute for Contemporary Arts, and GW Museum. He is a contributing editor at DIRT DMV and has curated exhibitions for Gallery 102 and DC Arts Center.
Erin Johnson is an artist and curator based in Portland, Maine. She is currently a Visiting Artist in Digital Media at Bowdoin College and received an MFA and Certificate in New Media from UC Berkeley in 2013. http://erinjohnson.com
Julien Langevin is a critical artist, activist, and writer based in Portland, Maine. Their current artistic interests involve the construction of self, gender, and perception. Ongoing political interests involve destroying the kyriarchy. http://julienlangevin.com/
David Martínez is a sculptural artist and recent graduate of Maine College of Art focusing on the topics of child development and how certain instances in a child's upbringing can affect their outcome as an adult. Born and raised in Stamford, Connecticut, the big city of Manhattan, New York, was easily accessible. Growing up around such a large city, along with having a rich Hispanic background, David is highly influenced by the urban life and its affects on his upbringing as a child. His overall goal is to open up discussion and to raise awareness through his art making.
Douglas W. Milliken is the author of the novel To Sleep as Animals and several chapbooks, most recently the collection Cream River and the forthcoming pocket-sized edition One Thousand Owls Behind Your Chest. His stories have been honored by the Maine Literary Awards, the Pushcart Prize anthology, and Glimmer Train Stories, and have been published in Slice, the Collagist, and the Believer, among others. www.douglaswmilliken.com
npilar is an analog radio program co-hosted by artists Anne Buckwalter and Pilar Nadal. Each episode is recorded live on cassette tape each Sunday, sometimes in Pilar's kitchen. The half-hour long show is a platform for discussion on a wide variety of topics, including but not limited to: contemporary art, literature, films, holidays, underwear, celebrities, sex, monsters, food, and outer space. http://npilar.tumblr.com/
Originally from California, Eden Osucha is a professor and scholar of American Literature and Cultural Studies at Bates College. She earned a Ph.D. in English from Duke University, an M.A. in English from U.C. Davis, and a B.A. in American Studies from Wellesley College. Her research in the areas of American literature and visual culture focuses on interrelations of U.S. racial discourse with concepts of publicness and privacy in media culture and law.
Veronica A. Perez (b. 1983 –  d. ???) was born in Florida and grew up in the great state of New Jersey. She moved to Philadelphia in 2004 to live and teach. In 2011, she began attending Moore College of Art and Design and graduated with her BFA in 2014. Currently, she is living and working in South Portland, Maine while attending Maine College of Art and will graduate with her MFA in Spring 2016.
Julie Poitras Santos is a visual artist based in Portland, Maine. Also a poet, her research interests involve areas where art and language intersect. She works as a professor in the MFA program at Maine College of Art.
Skye Priestley is an artist, poet and critic living in Portland. He likes to play soccer and ride his bike. You can find some of his writing and artwork at sjpriest.wordpress.com.
Irina Skornyakova is an artist and designer residing in Portland, ME. In her studio, she creates surface-based work which aims to reconcile the feel of natural elements with the coldness of the technological landscape. Irina was born in Moscow and lived in Japan. Irina's current visual projects and collaborations can be seen at http://erasedbyus.tumblr.com and http://irinaskornyakova.tumblr.com/.
Maia Snow graduated from Maine College of Art  ('13) with a degree in Painting. She currently she lives and works in Portland, Maine. Her studio is located at Space Studios in the downtown Portland area.
Although growing up in Maine, Benjamin Spalding has recently returned to his home state after a 7 year hiatus living abroad in Berlin, Germany. During his time away, he participated is several international exhibitions, residencies and helped run a small gallery space with several of his peers. Although his undergraduate degree was focused on marketing and mass media studies, he is currently pursuing his MFA at Maine College of Art, exploring the "body" as a metaphor for individual experience in regards to notions of displacement, intimacy and collective wonder.
Chris Stiegler is a professor and curator of contemporary art based in Portland, Maine. Currently he runs the Institute for American Art with John Sundling, his husband and collaborator. The project, situated in their apartment, showcases the work of a single artist per show as a way to engage the viewer differently. Founded in 2012, the Institute has shown the work of artists, curators, cultural producers, and publishers. In the coming years we hope to expand our geographic reach while maintaining our domestic operation.
Ellen Y. Tani, PhD is an art historian, curator and critic whose research explores the political and philosophical endeavors of contemporary artists, with an emphasis on artists who engage with racialization. She is currently the Andrew W. Mellon Postdoctoral Curatorial Fellow at the Bowdoin College Museum of Art, where she organizes exhibitions, teaches class sessions in the museum, and leads workshops for faculty on object-based teaching. She is currently organizing a major exhibition entitled "Second Sight: the Paradox of Vision in Contemporary Art" (Mar–June 2018), which features a range of artists from the 1960s through today who question and challenge the primacy of vision in their practice. Dr. Tani received her PhD from Stanford University in 2015, where her dissertation, "Black Conceptualism and the Atmospheric Turn, 1968-2008," examined how artists like Charles Gaines, David Hammons, Lorraine O'Grady and Lorna Simpson responded to the interconnected legacies of conceptual art and the black arts movement. Dr. Tani has worked at the Whitney Museum of American Art, the Cantor Center for the Visual Arts at Stanford University, and the Smithsonian Institution National Museum of American History. Her writing has been featured in Art Practical, Daily Serving, American Quarterly, Apricota journal, and Artsy.
Clare Tyrrell-Morin is an arts writer, publicist and US-China cultural instigator based between her physical nest in Portland, Maine, and a virtual nest in Hong Kong—where she grew up.
Kathy Weinberg is an artist and writer living in Morrill Maine, just outside of Belfast. Her poetry has been published in Off the Coast Literary Journal, The Island Reader, and she was one of three winners in the Maine Community Foundation essay contest, A Place in Maine, in 2013. Kathy is also an artist working in a variety of mediums including painting, sculpture and photography. She has exhibited her work in New York, Germany, and Maine. Her profession in antique and architectural restoration includes museum period room installation projects at the Museum of Fine Arts in Boston, the Metropolitan Museum in New York, the Museum of the City of New York, and private residences and collections.
Lia Wilson is a writer living and working in Portland, Maine. Her research interests include investigating the advantages and hazards of identity-focused practices, institutions, and historical categories in contemporary art, in particular the field of outsider art and its discourse surrounding artists with mental illnesses. She has a BFA in Printmaking from the College of Santa Fe and an MA in Visual and Critical Studies from California College of the Arts.
Emily Jane Young received her MFA from Stonecoast and BFA from the University of Maine at Farmington. She is the co-founder and artistic director of Word Portland, a literary reading series held at LFK in Portland. She is co-editor of the collection Be Wilder and her work has appeared in the anthologies I Could Be Here Now and Be Wilder.