Mark Price is a graphic artist who uses the serigraphy printing process to produce 2-D and 3-D visual works. Born in Detroit, Michigan, Price currently lives and works in Portland, Maine, by way of Philadelphia.
Working with gallery director Christina Ray, Mark Price has mounted three New York solo exhibitions including The New Real Fantasy Now (2009), Designer Endgame Strategies (2010), and Hyper 20XX (2012). Additionally, his work has been featured in group exhibitions at the Yerba Buena Center for the Arts in San Francisco and the Institute of Contemporary Art in Philadelphia. In 2009 his work was selected by curator Aaron Betsky for inclusion in the internationally recognized Confines exhibition at the Institut Valencia d'Art Modern. As a long time member of the Philadelphia artist co-op Space 1026 (2003–2013) Price has collaborated with many of the members to produce artist 'zines for his publishing project Zine of the Month.
Speaking to a deep­-seated human fear of groundlessness and change, the work abandons stability and a recognizable world. Incomplete warnings are gestured and pierce the picture plane, flattening it into jagged shards that are unrecognizable.

Serigraph collages and assemblages operate as high-resolution screens the provide views of accelerated built environments that shatter into stuttering and razor-sharp hi-contrast graphic regions. Fragmentary bits of a larger situation, the collages and assemblages emerge into a three-dimensional plane that feels tentative, vulnerable, and hyper-real. Mark Price
FOUR QUICK QUESTIONS FOR MARK
What Maine or New England-based artists are you currently most excited about?
Mark Johnson's Archival Digital Print series at Susan Maasch Fine Art, Darek Bittner's collage and letterpress from Pickwick Independent Press, Karen Gelardi's Banner Series 1 and 2 that I discovered while researching the large-format printer Designtex, and Damien Hoar de Galvan's colorful geometric wooden collaged sculptures.
Which artists do you think have had the greatest impact on either your work as an artist, you as a person, or both? (They can be from anywhere.)
Author Paul Virilio for his thoughts on speed, acceleration, and technology.
What are you reading and/or listening to these days?
Listening to APM's Marketplace, Russ Roberts' Econ Talk episodes with Nassim Nicholas Taleb, Ryoji Ikeda's dataplex (2001–05) and test pattern, Mark Fell's Multistability, and binaural beats.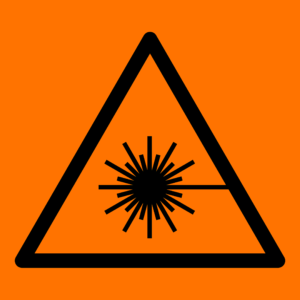 Finally, what's the wallpaper on your phone?
Laser icon on an orange field:
---
Want to be featured in The Chart? We're always looking for artists that are doing interesting things in Maine, artists who are from Maine and making work elsewhere, or artists who have a connection to the state in some way. Send us an email at info@thechart.me with a link to a recent body of work and we may profile you!