by Lia Wilson
"Site specific" is a descriptor in contemporary art muddled by misuse. Amidst much overzealous application, it's easy for its meaning to feel diluted, at times becoming conflated with installation practices reliant on walls or with previously completed works that earn new resonance in new context. Practices such as these can still hold great value, but their iterative possibilities preclude a potency in true "site specificity".
The event series A Long Wait, on the other hand, asked its participating artists to take full advantage of their setting in Fort Gorges, an abandoned fort turned public park on the edge of Portland's Casco Bay. The fort's construction history is one rife with delay and funding cuts. By the time it reached a stage of completion after the American Civil War, its artillery was outmoded and militarily defunct. Modernization plans were later abandoned, its third level never finished, and it was used for decades primarily as storage. In 1960, the city of Portland acquired it and opened it to the public, though you need a private boat to get there so attendance is modest despite close proximity. A Long Wait references this history in its title: a record of setbacks, unfulfilled objectives, obscurity, and idling. Curated by Erin Colleen Johnson and funded by The Kindling Fund through SPACE Gallery, the project calls upon artists to respond to the fort as site, material, and conceptual inspiration, their creative processes embedded with an aspiration to give the space purpose.
The second event in A Long Wait occurred on July 15th, with knightworks dance theater's performance S P E C T A C U L A R B L A C K D E A T H. Made up of the sisters Christina and Jessi Knight, the company is self-described as "devoted to telling stories of the African Diaspora in rich, layered detail."1 For this performance, they sought to engage notions of the end of the world and the impulse to create art amidst catastrophe. Overgrown with plants, trees, and high grasses and entirely empty, Fort Gorges feels like a place without reference, a place almost inside history where past and future grow less distinct. S P E C T A C U L A R B L A C K D E A T H utilized the site's unique potential to flatten time, and wove together references and narratives of African life both individual and communal, past and present, symbolic and fact-based. The work was a chaptered composition utilizing dance, verse, audio recording, and sacred ritualistic offering. One section of spoken verse was as follows:
flying over the atlantic at night
you suddenly remember being submerged in turquoise water,
sinking slow.
you see yourself from the outside,
watch breathless and cinematic:
will someone rescue her?
and when?
how many deaths?
and were they all so spectacular?2
Conjured within these lines is not just allusion to the Middle Passage, but also embodied experience living on down generations. Historic and symbolic connections between the black body and water appeared in moments throughout several chapters: in spoken word, in the background noise of water dripping in an audio testimonial, in the deep sea-blue color of the skirts both sisters wore, or even in the continual rhythm of the waves crashing against the fort as both sisters danced. Water persisted as metaphor, calling forth drowning and death but also resilience and cleansing.
This push-pull in meaning was reinforced in one section with solo movements by Jessi, her body rocking back and forth, pulled and tugged in opposing directions, gaining and then losing control again and again, as if under the influence of an unseen force. Her sister stood and looked on as silent witness. The dynamic in this particular vignette reverberated with audio components played over speakers for the crowd. One such recording featured Jessi reading "A Mother's Rules for Being Young, Black, and Male", the 2013 article written by Laura W. Murphy, Director of the ACLU Washington Legislative Office. Murphy's writing addressed her feelings of powerlessness in raising an African American boy, and the "disturbingly contradictory" signals black children have to navigate in the hopes of avoiding violence and prejudice. Learning later during Q&A after the performance that Jessi is also a mother, sharpened the achingly vulnerable gesture of her reading Murphy's "rules".
Black boys and men should not walk too quickly or run because that suggests they've done something wrong. They also should not walk too slowly because that suggests they must be looking for trouble.
Black youth should never hang out with more than three friends at one time, because large groups are likely to be mistaken for a gang. They should also be careful about walking alone—young men hanging out by themselves, like Trayvon Martin, are suspicious.3
The uttering of Trayvon Martin's name shuttled S P E C T A C U L A R B L A C K D E A T H directly to the present moment, in a week where the killings of Alton Sterling, Philando Castille, and five Dallas police officers were just beginning to be reported in full detail. Flattened time no longer seems like a conceptual exercise when contemplating the arc of Western history and its relentless violence against the black body.
Other audio components were testimonials of a certain kind, individual responses from the sisters or women in their life about their thoughts on the end of the world and about survival. One individual shared a conversation she had with an older woman in her community who had spent much of her life in prison. In response to asking how she had been able to sustain herself, the woman stated the need to accept the reality of your rights: "you have the right to work for justice in whatever way you think is best, you have the right to make a family as you see fit, you have the right to do things that bring you joy, but…. you have no right to abandon our struggle. You have no right to abandon our community. Your life will be spent finding a way to be free and at peace with these truths. As women in our community, that is your reality and your faith."4
Another response stated "I am a lover of black folk, a teacher of black women's studies, my mom's black girl baby, and the new world for me is in the here-now. My dreamy future is so much of the past. For example, there is no future I am interested in if my ancestors are not coming with me. For me black death is an anchor, a sail, and a kite."5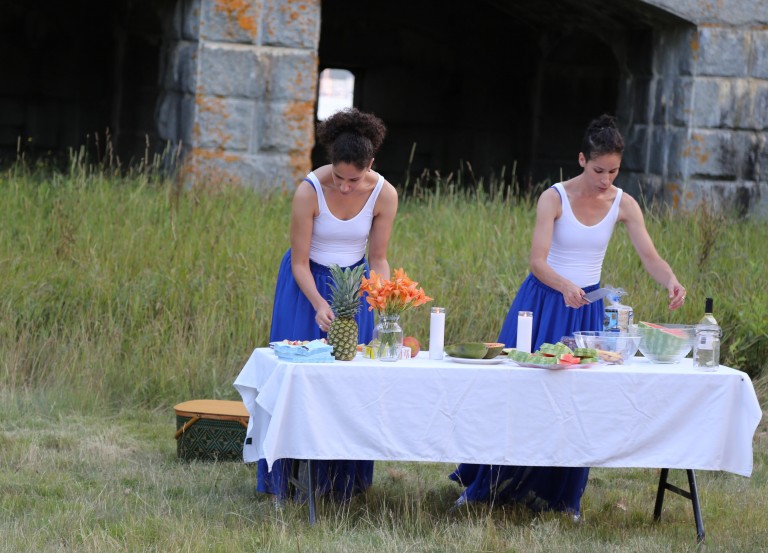 These accounts underscored a through line in S P E C T A C U L A R B L A C K D E A T H: the deep connections across generations, the sacred magic of these connections, the collapsing of the personal and the communal, and the ongoing need for wisdom to be shared for the future, no matter how cataclysmic the present. Here art means survival, it is buoyancy, it is documentation of the darkest assaults on human dignity, but it is also vehicle for resurgence and generosity. The performance came to a close with Jessi and Christina preparing a table of food and drink, offering it to the audience, and extinguishing the candles they set around the space.
Could this piece have occurred anywhere else? Is there another island housing a military fort constructed during a war whose origins were the basic freedoms of African American people?; a fort abandoned by capital interest, demilitarized, and left without markers of modernization?; a fort where space can be held to recognize the myth of forward time and progress, and yet still rejoice?
---
S P E C T A C U L A R B L A C K D E A T H was performed on Fort Gorges on July 15, 2016.
For more information about A Long Wait, visit alongwait.com.