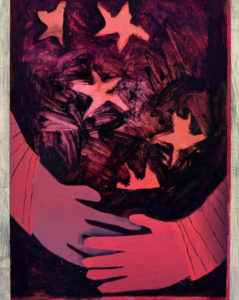 LOVESEAT
Border Patrol kicks off 2018 with LOVSEAT, a two-person exhibition featuring new paintings by Brendan Shea (Portland, ME) and Nick Benfey (Brunswick, ME).
An opening reception with the artists will be held on Saturday, January 27
from 3 – 6 PM. If you are unable to attend, please email us to schedule a viewing.
---
Brendan Shea displays an acute understanding of his medium's congealed histories. His paintings highlight material exploration with an awareness of the medium's ability to construct empathy through sustained looking. In addition to his paintings, Loveseat features Shea's sculptural work and a site-specific architectural intervention.
Likewise, Nick Benfey's work rewards prolonged study. The figures that appear in his paintings exist as a generic "type," a cypher for the imminently relatable situations into which they are placed. He succeeds in translating personal moments into glimpses of a universal. Transparency of method and intention is similarly crucial for Benfey.
Such concerns for the conditions of viewing betray an unshakeable confidence in the connection between looking and acting. Benfey and Shea celebrate bodies, objects, and moments both mundane and sparkling, mediated and exposed, agonized and joyful.
Loveseat is on view through Saturday, March 10, 2018. For more information about the exhibition, please visit our website.
---
What
Art Opening, Exhibition
When
January 27, 2018 through March 10, 2018
Where
Border Patrol
142 High Street, Suite 309, Portland, Maine
https://www.border-patrol.net/on-view.html
Open Hours: Email for appointments.
Cost
free
---