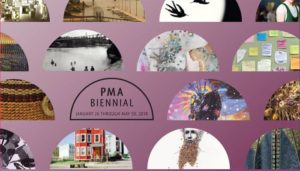 The 2018 Portland Museum of Art Biennial
The PMA is thrilled to announce the participating artists in the 2018 Portland Museum of Art Biennial! The artists represent a wide variety of media, from photography to canoemaking to video. All but one of the 25 artists will be exhibiting at the PMA for the first time ever, expanding the breadth of stories the museum is able to tell in its galleries.
The 2018 Portland Museum of Art Biennial opens on January 26, 2018.
The artists in the 2018 PMA Biennial:
Gina Adams
Becca Albee
Nancy Andrews
Elise Ansel
Elizabeth Atterbury
Stephen Benenson
Sascha Braunig
Anne Buckwalter
Steve Cayard and David Moses Bridges
Tim Christensen
Jenny McGee Dougherty
Angela Dufresne
David Driskell
John Harlow
Séan Alonzo Harris
Erin Johnson
Shaun Leonardo
Jonathan Mess
Daniel Minter
Rosamond Purcell
Joshua Reiman and Eric Weeks
Fred Tomah
DM Witman
ABOUT THE PMA BIENNIAL
This is the 10th Biennial exhibition at the PMA and the second Biennial that will be organized by an independent curator who will spend nearly a year visiting artist studios. Funded through the generous bequest of William E. Thon, the PMA Biennial is intended to highlight artists with meaningful connections to Maine and enrich the cultural lives of the people of the state. Inspired by his own experience and love of biennials, Thon entrusted the PMA with the means to offer rich contemporary art experiences to its audiences. You Can't Get There From Here: The 2015 Portland Museum of Art Biennial was curated by Alison Ferris of Edgecomb, Maine.
The 2018 Portland Museum of Art Biennial is made possible by the William E. and Helen E. Thon Endowment Fund with additional support by the PMA Contemporaries.
---
What
Exhibition
When
January 26, 2018 through June 3, 2018
Where
Portland Museum of Art
7 Congress Square, Portland, Maine
https://www.portlandmuseum.org/exhibitions/2018-portland-museum-art-biennial | 207-775-6148
Open Hours: Winter Hours: Saturday, Sunday: 10:00 am to 6:00 pm, Thursday, Friday: 10:00 am to 8:00 pm, Wednesday: 10:00 am to 6:00 pm
Cost
Adults: $15, Seniors: $13, Students with valid i.d.: $10, Children 14 and under: free, Friday evenings from 4 p.m. to 8 p.m.: free, Members: free, https://www.portlandmuseum.org/visit
---