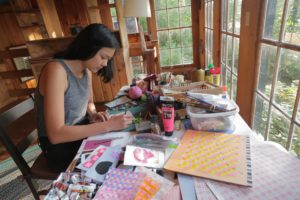 Meet the Residencies – info session for artists
Representatives from Maine artist residencies will offer an overview of their various programs. Meet the Residencies will be held at Maine College of Art on January 17 from 5:30pm to 7pm.
Presenters include the Hewnoaks Artist Colony, Maine College of ArtResidencies, Haystack Mountain School of Crafts, Monhegan Artists' Residency, Celebration Barn Theater, Watershed Center for the Ceramic Arts, The KISMET Foundation, and Joseph A. Fiore Art Center.
Administrators will discuss the specifics of their residency, who is a good fit, and what makes for a successful application. Admission is free. To reserve a seat, contact artistsatwork@meca.edu or 207.699.5016.
---
What
Residency
When
January 17, 2018 5:30pm through January 17, 2018 7:00pm
Where
Maine College of Art
522 Congress St, Portland, Maine 04101
Cost
Free
---