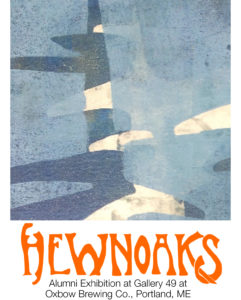 Hewnoaks Alumni Exhibition at Gallery 49 at Oxbow Brewing Co., Portland, ME
The Hewnoaks Artist Colony presents an exhibition of work by alumni of the Hewnoaks Residency program. Hosted at Oxbow Brewing Co.'s Gallery 49, the show is a selection of submissions, curated by Hewnoaks alumnus and Oxbow Brewing Co. gallery director Will Sears.
The show is a celebration of the talented artists who have used Hewnoaks as a place for retreat, reflection, research, and production of new work. The residency program is open to artists in all disciplines, and will open applications for its 2018 season in February, 2018.
---
What
Exhibition
When
January 4, 2018 through January 28, 2018
Where
Gallery 49, Oxbow Brewing Co.
49 Washington Ave, Portland, Maine 04101
Open Hours: Sun – Tues 12-9pm; Wed – Sat 12-11pm
Cost
Free
---