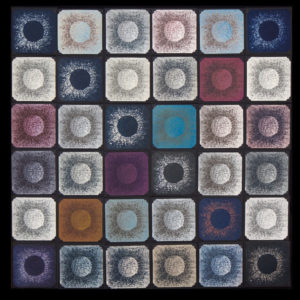 MICHELLE HAUSER Painting & Photography: An Alliance of Mediums
Michelle Hauser's solo exhibition: Painting & Photography: An Alliance of Mediums explores the connection of two mediums.
A selection of Hauser's paintings (many of which began during an immersive five-week residency on Monhegan, Island) have been transformed into large groups of zia type, cyanotype and gum bichromate prints as part of her ongoing Album Series.
Hauser's Album Series deepens the power and complexity of the print medium by creating compositions that rely on an interplay of pictorial structures between variant prints of the same image.  Her intention, through the reiteration of a single image, is to echo the inherent rhythms of the natural world––– time in particular–––not one moment in time as a single photograph captures; instead, Hauser elects to express the nonlinear way in which we recall time, its relentless repetition and endless variation.
By reducing her paintings into an abundance of sequenced, simplified and toned photographs, a distillation occurs that brings forth an abstraction and a detailed truth of reality.
---
What
Art Opening, Exhibition
When
June 15, 2017 5:00 PM through July 15, 2017
Where
PhoPa Gallery
132 Washington Avenue, Portland, Maine
http://www.phopagallery.com/
Open Hours: Wednesday – Saturday: 12-5pm First Friday Art Walk: 5-8pm Also available by appointment
Cost
Free
---