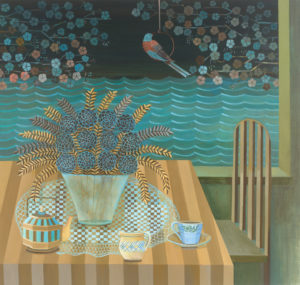 Serenade, Gail Spaien at Ogunquit Museum of American Art
 Serenade is an exhibition of new paintings by Gail Spaien. Inspired by the symbolism, contradiction, and pleasure embedded in folk art traditions of New England and Dutch floral painting of the sixteenth and seventeenth centuries, Spaien's recent series captures fleeting moments in a picturesque landscape. She suspends the viewer in an idealized world where emotions remain light. Looking at her paintings, one takes respite in the beauty of nature and home.
---
What
Exhibition
When
June 1, 2017 10:00 through June 28, 2017 5:00
Where
Ogunquite Museum of American Art
Ogunquit Museum of American Art, Ogunquit, Maine 03907
https://ogunquitmuseum.org/exhibitions-collections/2014-exhibition-schedule/gail-spaien-serenade/ | 207-646-4909
Open Hours: Open seven days a week 10 a.m. – 5 p.m.
Cost
students $9.00, adults $10.00, members free
---