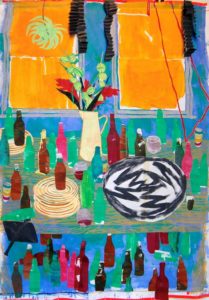 American Genre: Contemporary Painting
The Institute of Contemporary Art at Maine College of Art is pleased to announce American Genre: Contemporary Painting curated by artist, writer, and curator Michelle Grabner. Grabner is the Crown Family Professor of Art at the School of the Art Institute of Chicago. Based in Milwaukee, Wisconsin.
American Genre: Contemporary Painting is an exhibition built on a triad of traditional painting genres: still life, landscape, and portraiture. Fifty paintings by fifty American artists offers a critical balance to the conditions of atemporality, affected responses, and the material turn shaping much of contemporary painting discourse. Alternatively, this exhibition employs historically recognized groupings of subject and forms. Genres incorporate and invoke structures of knowledge by performing classification. Deeply embedded in everyday life, genre is conspicuous and powerful in its ability to chart historical continuity and differences through its organizing forces.
Still Life: Gina Beavers, Dana DeGiulio, Wendy Edwards, Francesca Fuchs, Hope Gangloff, Evan Gruzis, Angelina Gualdoni, Magalie Guerin, Jessica Halonen, Jonn Herschend, Tucker Nichols, Aliza Nisenbaum,  Roger White, Griff Williams, Kelly Williams, Emi Winter, Mathew Zefeldt
Portraiture: Herman Aguirre, Lucas Ajemian, Deborah Brown, Kristin Calabrese, Brian Calvin, Susanna Coffey, Angela Dufresne, Andreas Fischer, Howard Fonda, Richard Hull, Jose Lerma, Keith Mayerson, Frank Stockton, Henry Taylor, Storm Tharp, Kehinde Wiley
Landscape: Dan Attoe, Peter Barrickman, Amy Bennett, Michael Berryhill, Patrick Chamberlain, Ann Craven, Cindy Daigneault, Rackstraw Downes, Mari Eastman, Shara Hughes, Brad Killam, Eva Lundsager, Tyson Reeder, John Riepenhoff, Claire Sherman, Gail Spaien, Spencer Sweeney
The exhibition will close with a one-day symposium, American Genre: A Symposium on Contemporary Painting including a key note talk by Marie Shurkus, Chair of Academic Studies at Maine Collge of Art, and panel discussion moderated by Barry Schwabsky, art critic, historian and poet, hosted by Maine College of Art on September 15, 2017.  American Genre: A Symposium on Contemporary Painting will begin with a mid-morning keynote lecture, followed by lunch, an afternoon panel discussion and a closing reception at 5:00 in the gallery. A mixed audience of students, established and mid-career painters, and active curators and critics will be attendees and participants.  This exhibition will include a catalog that also functions as a genre reader.
---
What
Art Opening, Community Event
When
July 20, 2017 5:00 through September 15, 2017 7:00
Where
Institute of Contemporary Art, MECA
522 Congress Street, Portland, Maine 04101
https://www.meca.edu/about/institute-of-contemporary-art/ | 207-775-3052
Cost
Free and open to the public
---