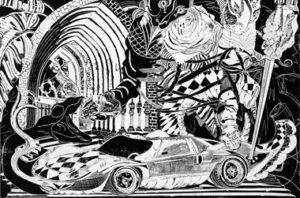 BIG INK – CURATED BY LYELL CASTONGUAY
BIG INK collaborates with artists, community organizations, and the public to produce large black and white woodcuts for exhibition and educational purposes. Artists submit a proposal to create a big print, at least 24"x36" in dimension, through BIGINK.org. If accepted, they are given two months to carve an image. At the end of the two months, BIG INK meets with the participants at 3S Gallery and helps them print their woodcut onto paper using the BIG INK large mobile printmaking press.
A print made by each artist during the event is archived in the BIG INK portfolio, which is exhibited in galleries and museums and digitized on our online gallery. A curated selection of prints will be exhibited at 3S Artspace.
---
What
Exhibition
When
June 3, 2017 through July 15, 2017
Where
3S Artspace
319 Vaughan St., Portsmouth, New Hampshire 03801
http://www.3sarts.org/gallery | 603-766-3330
Open Hours: Tues – Fri: 10am-6pm; Sat: 12pm – 5pm; Sunday + Monday: Closed or by chance or appointment
Cost
free
---