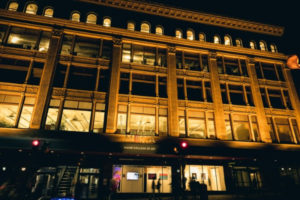 MECA Visiting Artist Series: Mary Murray
Mary Murray has been curator of Modern and Contemporary Art at MWPAI since September 1991. At MWPAI, she has organized more than forty exhibitions, including four collections-based touring shows with scholarly catalogs: Life Lines: American Master Drawings, 1788-1962 with Paul Schweizer; American 20th-Century Watercolors at the MWPAI; Collecting Modernism: European Masterworks from the MWPAI; and Auspicious Vision: Edward W. Root and American Modernism, with Paul D. Schweizer and Michael Somple. Recent contemporary exhibitions include "Substance and Light: Ten Sculptors Use Cameras," (2006), with Gina Murtagh; "Dimensional Line: Recent Work by Sharon Louden and Creighton Michael," (2004); "Resplendent: An Installation by Lynne Yamamoto," (2003); and "Patrick Dougherty: Full Court Press," (2001).
Mary has written about and lectured extensively on 20th- and 21st-century American art, recently presenting "Unlikely Provocateur: Edward W. Root, American Modernism and The Metropolitan Museum of Art" at the 2008 Southeast College Art Conference and "American and Modern: Edward W. Root and the Munson-Williams-Proctor Arts Institute" at the 2007 College Art Association annual conference.
---
What
Discussion/Talk
When
February 8, 2018 12 PM through February 8, 2018 1 PM
Where
Maine College of Art
522 Congress St., Portland, Maine 04101
http://www.meca.edu | 207-775-3052
Cost
Free
---