by Irina Skornyakova
Kevin Clancy sat down for a meandering conversation with Irina Skornyakova on a sunny day right after his residency before heading back to his home in Pittsburgh, Pennsylvania, to discuss his nomadic art practice, portable utopias, dreaming spaces and his recent residency on the Deer Isle Archipelago with Cabin Time. The conversation took place on the Western Prom in Portland, Maine, under the shade of a knotty pine to the sounds of airplanes, crows, and trains. What follows is an edited version of the conversation.
Irina Skornyakova: I thought we would start off with what you've been working on under the term "portable utopias".
Kevin Clancy: I'm really interested in making flexible nomadic social spaces that collapse to fit into a backpack or a suitcase or even the bed of a truck and expand to an architectural scale as transient sites for collective dreaming and utopic visions.
Portable Utopia started as a mobile library and inflatable geodesic dome that I took to Johannesburg, South Africa, as artist-in-residence at Keleketla! Library. The mobile unit circulated through the city and the surrounding townships in January and February of 2011, providing a transient platform for learning, sharing, making and discussion. I fabricated the 14-foot diameter dome out of polyethylene plastic, fused together with an iron — it was my first inflatable.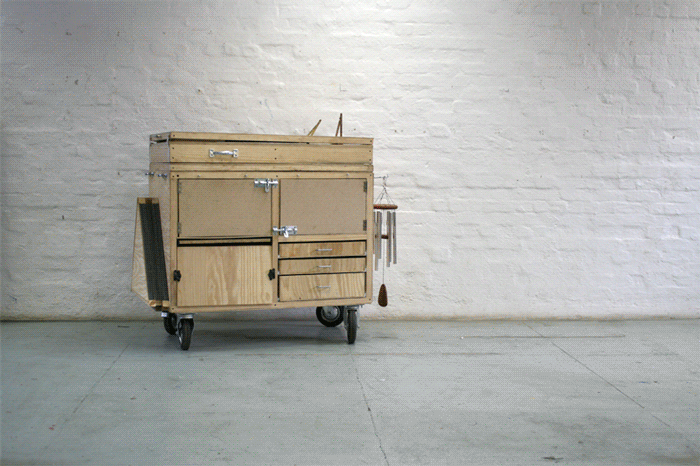 IS: How did you end up in Johannesburg?
KC: I had taken a class on post-apartheid resistance art in my junior year at Mass Art. We went to Johannesburg and Cape Town for three weeks and met famous South African artists, like William Kentridge, Nicholas Hlobo, Tracey Rose, and Willem Boshoff.
IS: What was meeting William Kentridge like?
KC: Well, he made us cookies and tea, and gave us a tour of his home studio.
His parents were lawyers, so he inherited this immaculate compound. It had iron gates with welded cats that look like his drawings. We went through the gates and up a steep drive to his house and studio, where he was working on The Nose for the Metropolitan Opera.
Etchings were going in an acid bath on the side porch, while he was making stop motion animations and scale models of the set. It was pretty great to have an intimate experience with an artist of that caliber, and see his studio process.
I met some amazing people while there, including Rangoato Hlasane and Malose Malahlela who run Keleketla! Library in Joubert Park. It was an incredible experience, but we had a limited experience on that first trip with only a few moments of free exploration without being shuttled around by a guide. I knew I wanted to go back on my own terms and explore the city more deeply without the feeling of being on an urban glass safari.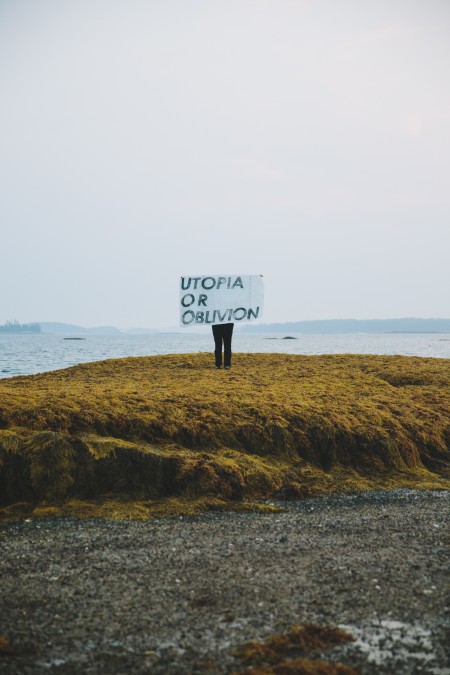 IS: So WE ARE RESPONSIBLE FOR OUR DREAMS was the next social space you did after that?
KC: I have a meandering practice, so I have a lot of things going on at once. The blanket fort was definitely the next in that line, and not the last.
I was invited to a residency at Mobius, in Cambridge, MA, for which I proposed to a month long slumber party with my friends, 24/7. I wanted it to be a publicly accessible installation accumulating from a group of artists working together continuously over a month. You know…a perpetually active space. It couldn't happen for logistical reasons so I had to figure out how to cultivate that intention within the parameters of the residency.
My solution was to make a nomadic space, which evolved into a 14′ x 14′ quilted blanket fort. It could travel to all of my friends without being confined to a brick and mortar structure like Mobius. I held participatory dream sessions in private homes, public parks, art spaces, DIY spaces, islands, schools, and secret spots. The blanket fort has hosted dream sessions all over New England, NYC, Pittsburgh, Grand Rapids, and most recently Sheep Island in the Deer Isle Archipelago for Cabin-Time.
IS: Can you talk about the mobility in both projects?  How does social activism in this public form play a role in your life?
KC: I like traveling and I want art to be a conduit for that, a means to travel. I also feel like public space is increasingly hard to carve out. Everything is privatized and there are so many limitations to what you can actually do in public. Creating your own temporary social space allows you to fly under the radar, you can be nomadic enough to keep moving ahead of getting in trouble, or getting shut down. It's actually really important to have these temporary and autonomous zones that travel around. I want to make portable spaces for people to have experiences they might not in other places, and to make spaces that are ripe for possibility.
IS: What is Cabin Time and what was your experience there like?
KC: Cabin-Time is a roaming creative residency that brings artists together in remote places. We were on Sheep Island in the Deer Isle archipelago for a week which is the most idyllic setting for the blanket fort yet. I set it up on a giant bed of moss surrounded by dense fir trees. I think entering a dreamy space primes you for dreaming and thinking, then I like to let people to have their own ideas and conversations within that structure, not trying to steer a conversation too much toward my own direction.
One artist, Alayna Rasile Digrindakis, brought a library for storytime around the theme of deep time. She read us James Joyce then a children's book about rocks, and a geological introduction on how old the earth is. We also had a resident geologist, Rose Lavelle, who made a rock museum and performed a play with her sister Nicole. Rose was our resident for talking about the geologic history of the island, how the coves are formed by fault lines. We talked a lot about the glacial history there, the deep history and feeling time — that was the core drive of the conversation. We also talked about the singularity, extraterrestrial life, and paranormal activity — it was pretty awesome. The blanket fort was totally hot boxed and everyone was drinking absinthe in the lantern light. We were burning palo santo and copal resin and eating copious amounts of gourmet popcorn. (laughs) We slept out in the fort overnight, 13 of us, so it was pretty dreamy…
IS: How did your experiences with your social spaces change how you interact with people on regular basis? Do you start to become acutely aware of when there are utopian undertones going on in a mundane situation?
KC: I think I just realized that we can all be portable utopias, all the time, it doesn't have to be an art project. What you bring to the world greatly enhances it and greatly enhances what you get back. I think doing these things…I need to do be doing them every moment of my life, with everybody, or aim for that. Whether it's creating a large physical structure that facilitates that type of interaction or just having interesting conversations and ideas. The energy you put out ripples all around you. I try to bring that to everything in my life, and be a radiant beaming human.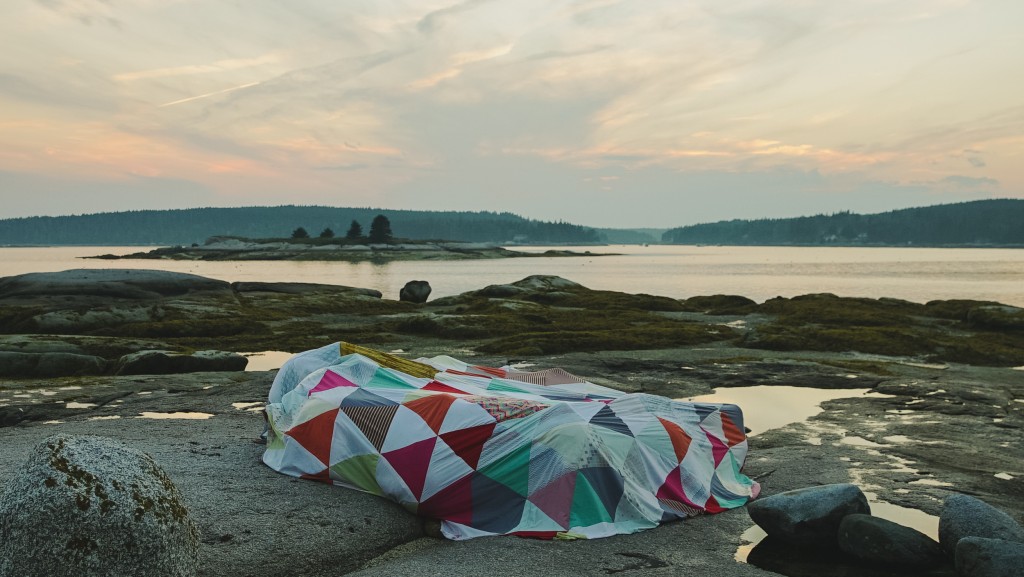 IS: Are there books or things that influence you at the moment? What do you think about the most?
KC: I'm always a little embarrassed that I don't take in that much; I don't read that much, don't watch TV or films. I like all those experiences, but often I'm just working and thinking. I feel like it's a thing I'm supposed to do, to be a smart, informed artist… A lot of my inspiration is visual art, experiencing it, and working directly with artists on their work, traveling, seeing exhibitions and getting stoked off of it. I was really excited to meet Mary Rothlisberger, who was one of the crew facilitators for Cabin-Time. She's really amazing and has a practice that I'm envious of. The structure of how she lives her life is incredibly inspiring to me, so it's good to have models of people who are living lives that you want.
IS: If you had infinite time and resources do you think the way you approach making your structures will change?
KC: Over time, yes. We are like goldfish, we grow to the size of our container, that's why I like to travel. When I'm in my Pittsburgh bowl, I don't grow as much as I have potential to. I think when given opportunities we just grow as big as we can, which is exciting. I want more of that, as opposed to Arte Povera.1 But I like working in that structure too, it can simply get things going.
IS: What would your ideal life structure be?
KC: Doing projects all over the country, and all over the world, all the time. I'd like to get to that point where my work becomes financially sustainable. I would love to just magically get back to that place where all I need to focus on, is my art. It's such a magical space to get to occupy….a super privileged space.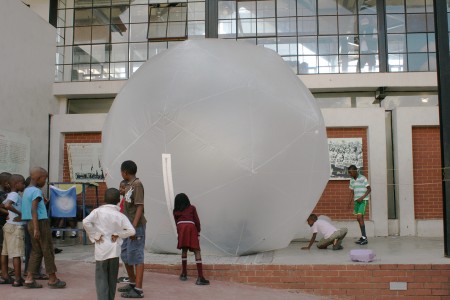 IS: You're attempting to do that in these smaller zones, you're creating a bubble of people around you who are going to feed into a continuous creative cycle.
KC: And often, quite literally, I'm making bubbles, like with the inflatable and with the blanket fort. I don't want that to negate or erase the real world, but I do want to carve out spaces of potential in this problematic world. Spaces that you can have wild ideas within, expansive ideas that are unencumbered by the reality of shit. My spaces are always enclosed to shut off the outside world. Even though you can hear or see things in passing moments, you enter another world. I hope that the aesthetics of these nomadic temporary spaces provide a severance from that fixed reality.
I've had a lot of moments where I set up under some shitty bridge in the middle of a city, a place that doesn't feel like a source of inspiration or a place to think or with people. Then just by setting up a blanket fort and entering that second space people open up a lot within it. My mind goes places it wouldn't and I think it works for a lot of other people too.
---
You can see more of Kevin Clancy's work at http://weareresponsibleforourdreams.tumblr.com/ and http://www.anenvyclick.com/.
Arte povera is a style and movement in art originating in Italy in the 1960s combining aspects of conceptual, minimalist, and performance art, and making use of worthless or common materials such as stones or newspapers, in the hope of subverting the commercialization of art. ↩