by Julien Langevin
How does painting operate when one is not concretely confronted with the materiality of it? In a review published in Hyperallergic, Eve Perry defines the aesthetic of post-analog painting as that in which "artists grapple with the ubiquity of digital technology" in our "current post-millennial moment." In the wake of a millennial generation, digital technology is not only a novelty but a necessity. The definition of painting is changing in reaction to this: traditional oil painting is evolving into a practice based around discovery and edge rather than representation and illusion. Many contemporary artists are working within the digital realm as opposed working it out on the canvas, especially concerning topics that involve and discuss the digitalization of culture. We are caught in the churning reset of our priorities, no longer reliant on the physical.
We consume and learn through image, be it physical or digital. Is there a difference? And where does something as tangible as painting come into play in a society with intangible ideals? The answer is in the process: paintings are a connection, a liaison between a physical reality and illusion, much like the digital world. Emilie Stark-Menneg, and artists like her, scrounge the meat buried within the aesthetics of the digital realm, while also exploring avenues that reference traditional figuration, postmodern compositions, and relative humor. American Popsicle, currently on view at Elizabeth Moss, boundlessly embodies the social influence of summer on the coast and excites critique of the current generational connection to traditional painting.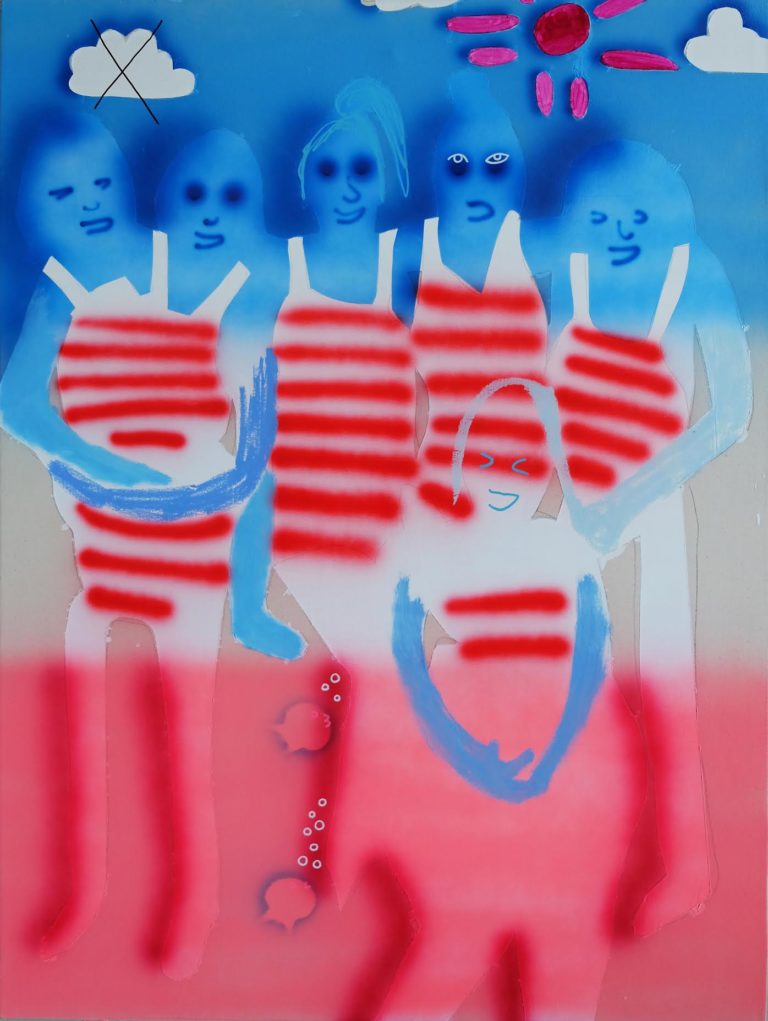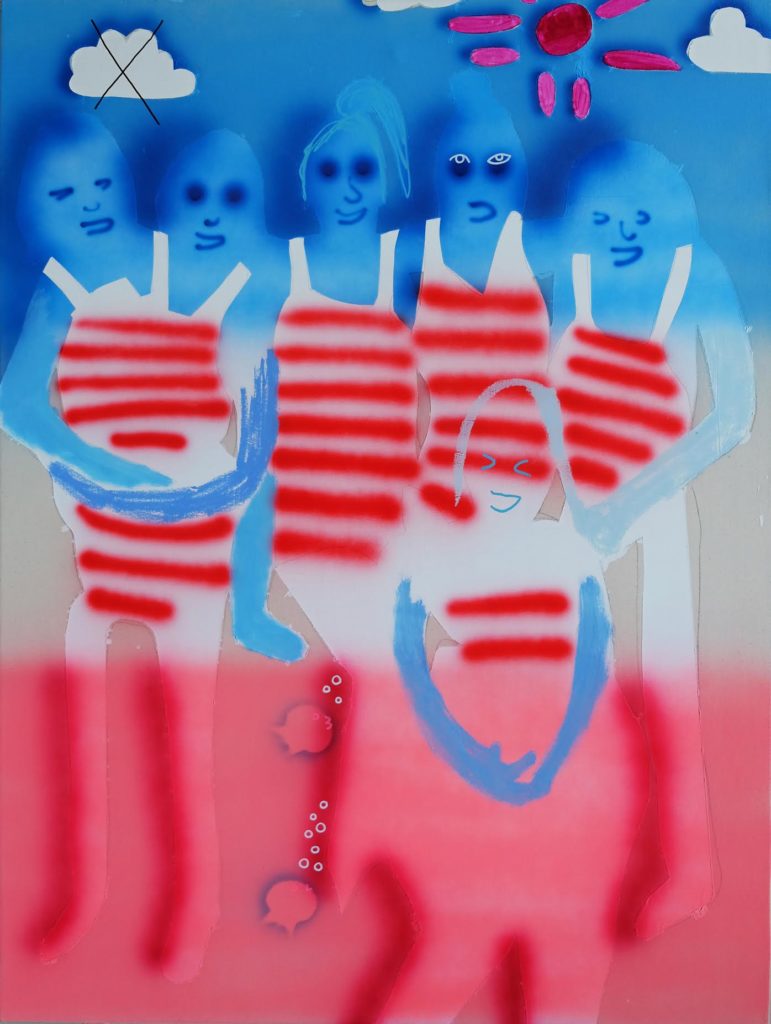 American Popsicle is a sweet in-between of anxiety and nostalgia, the abstracted figuration reminiscent of personal relationships and dream vacations, but with a twist. Summer in Maine (2016) envisions a couple of loungers drifting in open ocean. The title alone brings a deep stir to most New Englanders and visitors from near and far. Wild grins identify the figures in this piece, reclining on nothing but…waves? The energy of their surroundings is anonymous and familiar. Like the presence of digital technology and screens, this composition is piled with overstimulation and unease, oddly combined with a sense of familiarity. In the eponymous painting, American Popsicle, figures line up as if to take a group photo. The more a viewer looks into the figures' deep blue eyes the more they begin to blend with the blue ground: these characters appear to be carved from the blue of the sky where Stark-Menneg stencils them into the foreground creating provocative reads of the depth of field. The figures might be friends or family, or they may exist purely as the result of material exploration in layering and definition.
Material discoveries and unusual juxtapositions ensure that Stark-Menneg's paintings engage viewers for a substantiated read. They are explorations into universes of their own. Stark-Menneg's characters' spaces become knowable, yet as viewers we are only allowed to connect through the formal relationship of viewer and artwork. Through this relationship we are able to process bits of information in relation to ourselves, such as limply-defined fish granting access into humor and presumption. In Jangle Bones (2017), the figure is bisected by the top of the picture plane, their bottom half realized by loose lines and thick paint. Bones are slapped onto the legs of the figure in fat white paint while the rest of their legs are scribbled-in pants and fancy airbrushed shoes. Like other painters working in the reaction of post-analog, Stark-Menneg is not concerned with cohesion: she allows the entirety of the painting to act in its own world, allowing both chaos and presumption to work in tandem.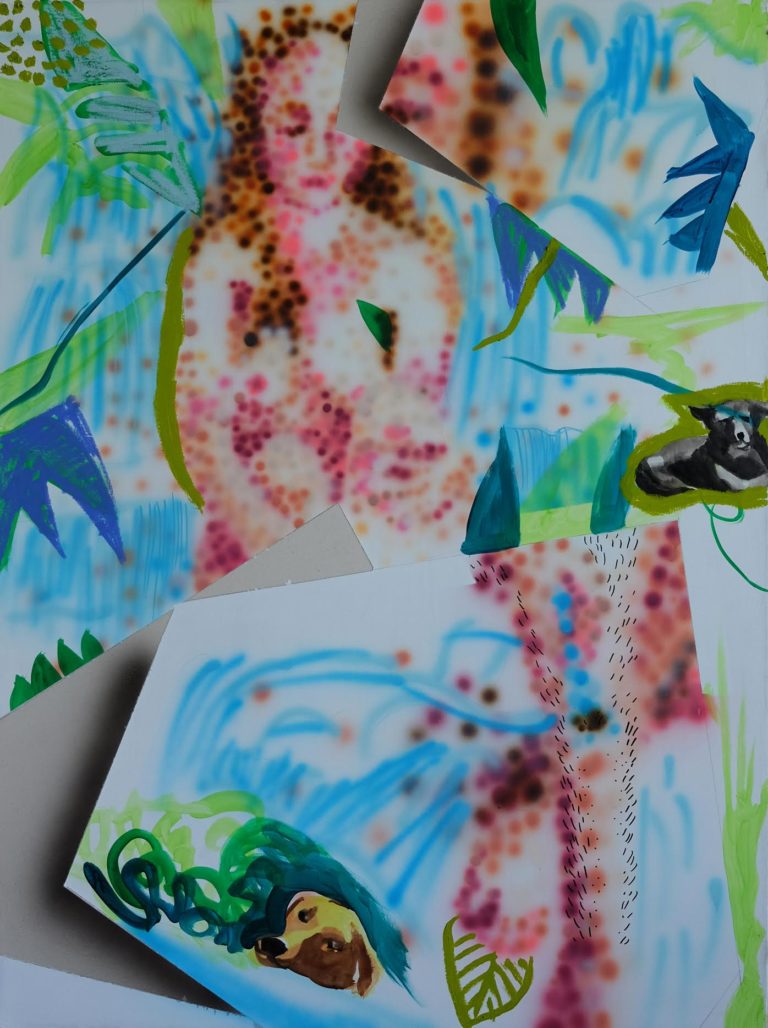 Subtle bits of humorous details are what make Stark-Menneg's work so thrilling to look at. In Dream Team, wiry portions of pubic hair are rendered in black, peeking out of pastel swimwear. The same hair is rendered under armpits and on Venus's legs (of Botticelli's Birth of Venus) in Shaving Venus. When body hair is an unfortunate focus of summertime activities that require less and less clothing, Stark-Menneg's inclusion of these fun little reminders is an intentional humanization of her figurations. The figures in Dream Team, like those in American Popsicle, are sculpted out of their surroundings as they are simultaneously created by the construction of the ground. In an aesthetic that reads as almost casual, these bodies wisp in and out of our reality.
Add Gulls is a tasteful reminder of the illusion required to make a representation appear physical. Flirtatiously pinned to the wallpaper depicted in the image, a yellow sticky note reads "ADD Gulls", reiterating the title of the painting while the wallpaper beneath it peels back. The two figures, glowing in their airbrush-rendered existence, seem to either be pointing alarmingly at the fact that the wallpaper is pulling, or pointing at something off in the distance. Because of the bizarre assortment of figuration and objects within this composition, the viewer is not able to know exactly which is which. The figures' decision-making in the painting catapults the viewer into a subjective stance. The composition is no longer foreign — it pulls on the anxiety of physicality, where we are built on illusion and accustomed to believe what we see. However, these figures do not abide by our rules in the physical realm. They are neither digital nor physical, trapped in the purgatory of existing as a painting in reaction to the digital concept of perceptual fluctuation.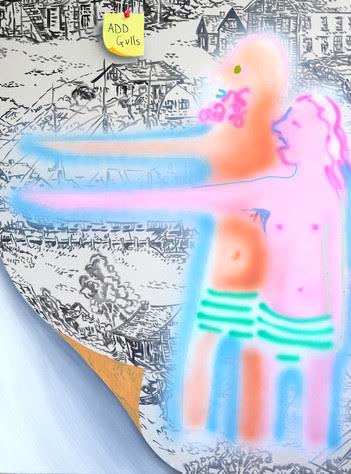 If one constant exists throughout all of Emilie Stark-Menneg's paintings in American Popsicle, it is Stark-Menneg's undeniable love of paint. Gooey drips of thickly plastered acrylic and gentle airbrush pardon strange and awkward compositions. Fragile lines meet bold wipes of material as figures and animals are brought to life, if only for moments until we begin to piece together the illusionistic puzzle. Unapologetic, Stark-Menneg creates a chasm of conflicting consistency, her viewers left to grapple with the impact of the work in relation to their data environments. The onslaught of digital culture encounters the intimacy of physical paint in a brawl worthy of conclusion, but there isn't one. As with the tumultuous and ever-changing likeness of the digital, painting will survive as a reaction, but an action nonetheless.
---
Emilie Stark-Menneg's exhibition, American Popsicle, is on view at Elizabeth Moss Galleries through August 12, 2017.
Elizabeth Moss Galleries
251 U.S. Route 1, Falmouth, Maine | 207.781.2620
Open Tuesday–Sunday, 10am–5pm