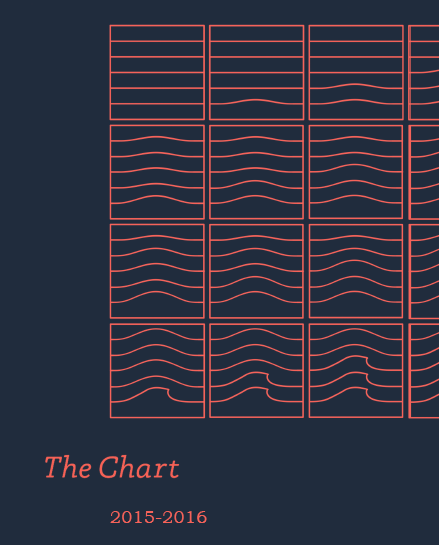 The Chart is collaborating with Wing Club Press and twxx.us to publish the first year of The Chart as a print anthology. The Chart: 2015–2016 is a limited edition book that contains most of our content from August 2015 through August 2016, a special Artist, Venue, & Resource Directory for 2016, and custom illustrations by twxx.us. Each book (140 pages) is locally printed and perfect bound, designed by Founding Editor Jenna Crowder. The navy and fluorescent orange silkscreen cover was designed and printed by Wing Club Press. Each book comes with a two-sided poster with illustrations by twxx.us on one side and a gallery of color plates from work featured in the anthology on the other.
You can order The Chart: 2015–2016 online below or email jenna@thechart.me to buy one in person.

Purchase a copy of The Chart, 2015–2016:
Are you a student or a contributor? Purchase a copy of The Chart, 2015–2016 at a discounted rate:
Questions? Email Jenna at
jenna@thechart.me
.